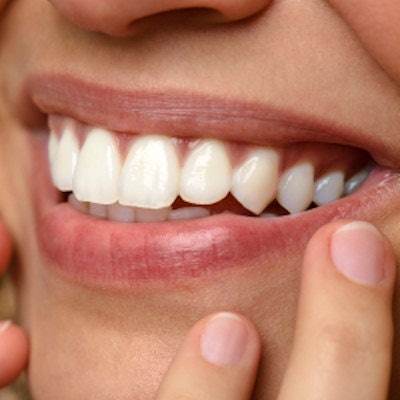 Try smiling if you want to gain the most attention this Valentine's Day. Men and women find the grin of a smiling person to be the feature that most affects attractiveness, according to a study published recently in the American Journal of Orthodontics and Dentofacial Orthopedics.
Women found a smile to be most responsible for facial attractiveness. For men, a smile also was ranked the most important factor in gauging attractiveness. However, eyes and hair also mattered when men were deciding a person's facial appeal, according to the authors.
"Smile attractiveness was strongly correlated with the attractiveness of the smiling face, which is the only significant component," wrote the authors, led by Joana Godinho, FMD, of the University of Lisbon in Portugal (Am J Orthod Dentofacial Orthop, January 2020, Vol. 157:1, pp. 98-104).
Crooked or misaligned teeth influence how others perceive attractiveness, intelligence, personality, and behaviors. In dentistry, specifically in orthodontics, quantifying the importance of the smile in terms of facial attractiveness is vital when evaluating a patient's treatment.
The study aimed to do just that by analyzing the contribution of different facial elements on the frontal evaluation of the attractiveness of smiling faces. To assess this, the researcher selected 30 men and 30 women from the patient files of the University of Lisbon Orthodontics Department. They isolated different facial components from each original photo of the smiling face and then they gave them to men and women from the university to evaluate.
For women, 69% of the variation in facial attractiveness could be attributed to the smile, the researchers found.
For men, the smile alone accounted for 49% of the variability in the assessment of facial appeal. However, the eyes and hair also affected how men viewed facial attractiveness. About 20% of the variation of facial attractiveness could be attributed to eyes and about 6% to hair, the authors wrote.
Although the findings show the important role that smiles play in attractiveness, the study was not without limitations, including evaluating attractiveness by looking at photos. Though popular, these static 2D representations can be evaluated differently than more dynamic records in which emotional patterns also may be analyzed, the authors noted.
However, knowing how important the smile is to the overall appeal of a person's face can help dentists and orthodontists correct smiles with those interests in mind.
"Understanding the influence of each element for facial attractiveness as a whole could help in quantifying the limits of orthodontics when the teeth and the soft tissues undergo treatment," the authors wrote.