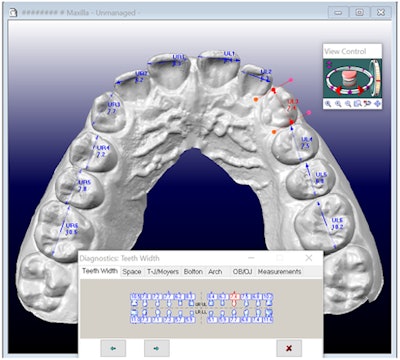 Image courtesy of Frazier-Bowers et al. Licensed by CC BY 4.0.
More than one-third of orthodontic patients had tooth size discrepancies, and the differences may be more prevalent in Black and Hispanic patients than in white patients, according to a study published on April 19 in Orthodontics and Craniofacial Research.
As orthodontics becomes more digitized, orthodontists should be aware that odontometrics data generated from digital models versus casts made using traditional methods may affect orthodontic treatment. Diagnosing tooth size discrepancies (TSDs) early helps ensure the best possible treatment outcomes for orthodontic patients, the authors wrote.
"With the knowledge of an increased prevalence in Hispanic and Black patients, orthodontic practitioners can anticipate the need to provide more personalized care of all patients, addressing the TSD (tooth size discrepancy) early in the treatment stages," wrote the authors, led by Dr. Sylvia Frazier-Bowers, PhD, of the department of oral facial genetics at the Indiana University School of Dentistry in Indianapolis.
In 1958, Wayne A. Bolton developed an analysis to understand the underlying causes of discrepancies in tooth size and malocclusion. The Bolton analysis continues to help clinicians determine the optimum interarch relationship.
The analysis, which was based on 55 white people with "ideal occlusion," measures each tooth's mesiodistal width. The diagnostic significance of a Bolton TSD of >1.5 to 2 mm has been subjected to anecdotal and evidence-based research. It is a widely accepted tool used by orthodontists, according to the study.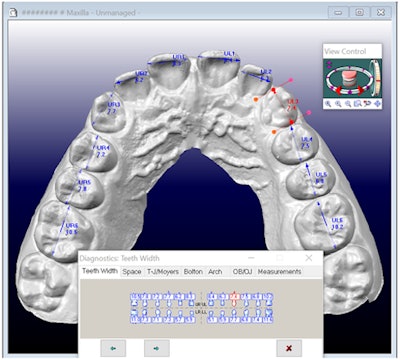 Today, orthodontists continue to encounter clinical challenges due to disproportionate relationships in interarch tooth size during the last stages of treatment for patients. Despite the growing use of digital technology and a more focused approach on custom treatments, there is a knowledge gap that exists concerning how tooth size data, whether it is gleaned from digital or traditional methods, can impact treatment, the authors wrote.
To compare the occurrence of TSDs, researchers used 101 digital models and a digitally based cast analysis to compare the mesiodistal widths of teeth using odontometric software. Of the models, 53 were women and 48 were men. Additionally, 30 were Black patients, 31 were white, and 31 were Hispanic, according to the study.
Overall, the Bolton TSD prevalence was about 37%, and approximately 27% had anterior Bolton TSD. These results are important for orthodontists, because many clinicians rely on "eyeballing" a patient's incisors to diagnose a Bolton discrepancy. Furthermore, due to the prevalence of discrepancies, orthodontists should conduct comprehensive exams that include measuring all teeth, not just those referred to as the "social six," to properly detect a TSD, the authors wrote.
Though there was no statistically significant difference by gender, race appeared to affect TSD. White patients had a statistically significantly smaller prevalence of TSDs compared to Black and Hispanic patients (p < 0.05,) they wrote.
Nevertheless, a digital platform using three-dimensional scans of teeth can not only facilitate efficient diagnosis of Bolton TSD but also planning and simulations of treatment modalities to treat Bolton TSD.
"As the demographic of patients seeking orthodontic treatment continues to evolve, becoming more diverse, orthodontists should expect to encounter even more Bolton TSD in racial minorities," Frazier-Bowers concluded.