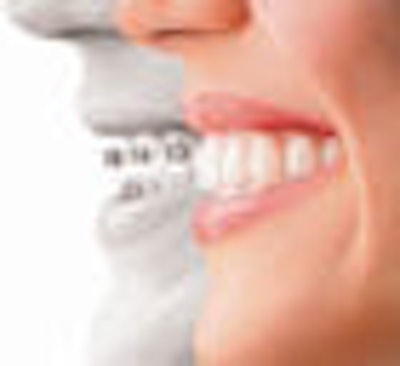 Given the recent improvements to the Invisalign system from Align Technology, orthodontists can accomplish almost anything they want with it -- although getting the optimum results requires making a lot of judgment calls, a Massachusetts orthodontist told colleagues at the recent Yankee Dental Congress in Boston.
"Treating patients with Invisalign is simple, but certainly not easy," said Brian H. Miller, D.D.S., who has used the clear braces in more than 300 cases.
Use your judgment
Dr. Miller said he's learned through experience not to rely too much on the company's automated solutions and to recognize that treatment plans may need to be refined along the way.
"Treating patients with Invisalign is simple, but certainly not easy."
— Brian H. Miller, D.D.S.
Certain types of cases are much more difficult than others, he said. One of the most challenging: correcting deep overbites. Moving short clinical crowns, extruding teeth, and shifting roots can be complicated, too, and making spaces for implants can be especially tricky, noted Dr. Miller, describing a situation when the process didn't work.
"I had to go to braces," he said. "If you do enough cases, you probably will need to convert some to braces."
Dr. Miller, who is an Invisalign Premier Provider, discussed improvements to the system and gave the audience plenty of tips on maximizing its uses and benefits.
New buttons
The biggest improvement in the system came last year when the company upgraded its software and changed the shape of buttons that dentists attach to patients' teeth, according to Dr. Miller.
Invisalign uses clear plastic aligners rather than traditional metal bands for orthodontia. Typically, patients get between 20 and 30 different sets of snug custom-made aligners, which they wear in a specifically prescribed order to gradually shift their teeth. Dentists attach tiny white buttons on some tough-to-move teeth, and these attachments help create the force needed to guide each tooth to its proper place.
Last fall, the company changed the shape of these buttons and began having its software determine exactly where each attachment should be placed -- something that can vary for each case.
Invisalign's old rectangular attachments did not always move the teeth as expected, Dr. Miller said. Now, beveled attachments give dentists more control over where teeth get moved. And more aligners can be made with power ridges, which help dentists torque roots without having to bond attachments to any teeth.
Best practices protocol
The company also created a best practices protocol in 2007, which changed the way the Invisalign system shifted teeth. Originally, the system moved teeth separately, with some moving much earlier in the process than others. But now, most teeth are moved simultaneously, just as they are with traditional braces, Dr. Miller said. This ensures that less predictable root movements will occur more slowly, he said.
While dentists can easily let Invisalign completely design treatment plans, they should carefully examine the company's computerized suggestions, Dr. Miller said. The company creates a computer model of how each patient's teeth will shift, identifying the specifications for each aligner and accompanying attachments.
"Be more proactive," said Dr. Miller, urging attendees to take advantage of the company's ability to accommodate special requests.
Dr. Miller also urged orthodontists to correct patients' malocclusions with Invisalign.
"There's a new paradigm in orthodontics," he said. "Instead of focusing on occlusion, people are focusing on the smile. I'm not sure where this is leading us."
Dentists can request special attachments for patients with short crowns, whose teeth may be more difficult to move. They can also ask the company not to prescribe any attachments with the first set of aligners, so patients can get used to wearing the plastic inserts.
Common patient complaints
Patients must wear their aligners 22 hours a day, taking them off only to eat and brush their teeth. Removing the aligners can initially be challenging, Dr. Miller said. Some patients break them because they take them out from the front of the mouth, rather than the back.
Patients may also complain that the aligners affect their bite. Almost all Invisalign patients can't bite on their back teeth, Dr. Miller said. But this problem usually disappears after the teeth are in proper position and patients have worn retainers for about six months, he said.
Often, patients are thrilled with the process -- and the results, said Dr. Miller, noting that one elderly patient not only bought stock in the company during her treatment but volunteered to become a company spokeswoman.
"She wants to tell the world that it's never too late to straighten your teeth with Invisalign," he said.
Copyright © 2010 DrBicuspid.com