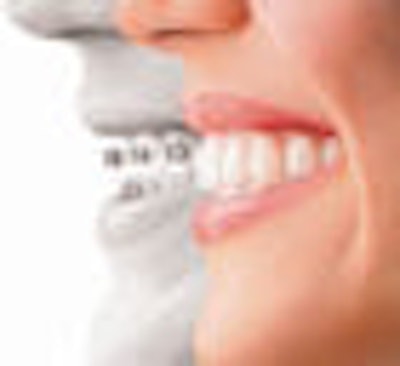 Demand for clear aligner products and services is on the rise at a time when many cosmetic procedures -- dental and otherwise -- are experiencing a decline. And this is good news for general dentists previously unable to offer orthodontic-related procedures -- and the vendors eager to supply them with these products.
Align Technology has long dominated this space with its Invisalign products. Other competitors include Ormco, ClearCorrect and, more recently, Dentsply International (although its 510(k) market clearance for its MTM Clear Aligner Service has reportedly been delayed). In fact, the current economic downturn doesn't appear to have put a damper on this market at all.
"This is still a wide-open market."
— Willis Pumphrey, D.D.S.,
ClearCorrect CEO
Align, for example, doubled its second-quarter (end-June 30) year-over-year profits, reporting a net profit of $32.6 million on revenues of $108 million for the second quarter of 2010, compared to a net profit of $14.9 million on revenues of $76 million for the same quarter a year ago.
And in response to increased demand for its clear aligner products, ClearCorrect doubled its facility size and tripled its manufacturing capabilities last September and just went through another expansion in August, according to Willis Pumphrey, D.D.S., ClearCorrect CEO.
"Over the last year we signed up, on average, 100 or more doctors a week," he told DrBicuspid.com. "Right now, about 75% of those are doctors who have never used clear aligners at all." He estimates that Align has about 40,000 to 50,000 Invisalign-trained doctors, "and there are 160,000 dentists in the U.S. So this is still a wide-open market, with plenty of room for competition."
Untapped potential
Wide-open, indeed. Each year in the U.S., about 2 million people enter orthodontic treatment and $7 billion a year is spent on it, according to ClearCorrect. But so far clear aligners account for only a small portion of this market.
"In North America, we think there are about 2.5 million new orthodontic starts annually, and roughly double that worldwide," said Tom Prescott, president and CEO of Align. "Of these, we believe there are 1.2 million to 1.3 million cases that we can compete for, and about 75% of that is the 11 to 19 age group. So at this point, we think Invisalign accounts for about 3.5% of patient starts of the total number of ortho starts in North America annually. And in the 11 to 19 age group and adults, about 7%."
But about two-thirds of patients with conventional braces could use clear aligner therapy, and about a third of patients in every doctor's database are good candidates for it, ClearCorrect said.
For example, "about two-thirds of the U.S. population suffers from mild malocclusion, and many people do not understand that they have choices," Prescott said. "They don't want braces, and they don't think to call anybody else besides their general practitioner. So we believe the general practitioners who want to learn to do simple orthodontics and learn clear aligners and add this to their practice, that this would be a great service for these patients. If the dentist and hygiene staff can educate patients about how clear aligners can enhance their overall oral care, they are able to help, collectively, the orthodontics industry to get after the hundreds of thousands of people who suffer from malocclusion."
The clear aligner market is also attracting new patients into treatment who would have turned down brackets and wires, such as mature teens, Prescott added.
Other untapped segments of this market include the 70% of adults who suffer from lower inset anterior crowding, according to Brad Clatt, general manager of Dentsply Raintree Essix Glenroe. In fact, this population is what prompted Dentsply to dip its toe into the clear aligner market.
"No company has truly tapped into the opportunity for this service in the market," Clatt told DrBicuspid.com last May at the California Dental Association meeting when the company first announced the MTM Clear Aligner Service. "We view the market opportunity as those seven out of 10 adults."
What the future holds
How clear aligners work
After a dental practice takes photos and impressions of a patient's mouth, these are sent to the lab. At the lab, a 3D computer image is created, along with models from which a series of custom clear plastic aligners are made for the patient to wear. As the patient wears each consecutive aligner, it puts pressure on their teeth, which gradually move closer to their ideal alignment.
According to ClearCorrect, as the aligners put continued pressure on dental crowns, pressure is transferred to the periodontal ligament. This causes osteoclastic activity, a breakdown process of the bone that takes 48 to 72 hours to start. Osteoblastic activity, the required bone rebuilding process, takes the same amount of time to get going and about 90 days to finish. Stabilizing the results usually takes another 10 to 12 months with a final retainer.
But just as in conventional orthodontics, clear aligners are only as successful as the patient's adherence to the treatment plan. In fact, because the aligners are removable, compliance is even more critical.
"Clear aligner therapy is not an exact science in any way, shape, or form," Dr. Pumphrey said. "It's a little different than brackets and wires, where movement is a little more exact and predictable. One problem [with clear aligners] is compliance. If the patient takes the aligner out of their mouth and doesn't wear it, the trays can stop tracking properly and might not fit properly."
While it doesn't take a lot of force to move a tooth, it does take consistent force. This makes patient education critical, since patient noncompliance is the leading reason behind treatment difficulties, ClearCorrect noted. It's also a good idea to have some form of compliance indicator built into the system, to indicate whether the patient is wearing the aligners and complying with treatment instructions.
"If a patient leaves an aligner out of their mouth for more than four hours, the osteoclastic and osteoblastic activity totally stops and takes 48 to 72 hours to get going again," Dr. Pumphrey said. "So each time a patient fails to wear their aligners for four or more hours, they're setting their treatment back 48 to 72 hours. Patients, in fact, need to wear their aligners at least 22 hours a day to get desired results."
Both ClearCorrect and Align are confident that clear aligners have so far just scratched the surface in the orthodontic treatment market.
"Over the long term, the value proposition for clear aligners will resonate with those customers who don't want to do fixed appliances," Prescott said. "So 10, 15, 20, 30 years from now, maybe everyone will straighten their teeth with clear aligners."
Copyright © 2010 DrBicuspid.com