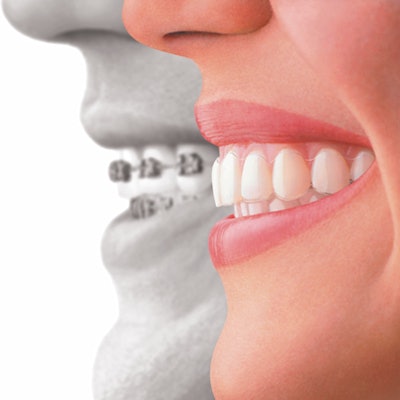 Align Technology launched its ClinCheck "In-Face" Visualization tool for its Invisalign Go system at this week's 2020 Chicago Dental Society Midwinter Meeting.
The tool enhances the digital treatment planning experience for dentists and their patients by incorporating a front-facing smile image of a patient's face into its ClinCheck treatment plan.
Initially launched with the Invisalign Go system, the tool will be available across the Invisalign portfolio throughout 2020. Currently, the tool is available to clinicians using Invisalign Go in the U.K. and Ireland. It will be available to those using Invisalign Go in the U.S. and Canada on March 9.
The tool is accessible through the Invisalign Photo Uploader application, which is available for iOS and Android, to capture patients' digital photos. Images automatically upload to the Invisalign Doctor Site, where the tool merges the patient photo with the treatment model. This allows clinicians to compare side by side before and after photos, share multiple treatment plans, adjust the treatment plan, and refresh the "in-face" view.