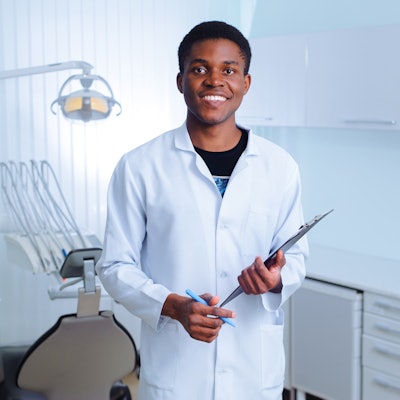 What is the greatest challenge that orthodontists face? General dentists treating orthodontic patients. Orthodontists from every generation in the U.S. and Canada all agreed it's their most profound challenge, according to a study published in the American Journal of Orthodontics and Dentofacial Orthopedics.
In the last few decades, the field of orthodontics has experienced drastic changes. Therefore, generational perspectives of orthodontists may be important for the specialty now and in the future. These changes are also reflected in the second greatest challenge facing orthodontists: mounting student debt, which likely will affect millennials and subsequent generations the most, the authors wrote.
"Rising student debt for dentists in general, combined with ease of providing orthodontic care through CAT (clear aligner therapy), will likely increase competition from nonspecialists further," wrote the authors, led by Dr. Syed Rassal Hussain of the University of Maryland School of Dentistry in Baltimore (Am J Orthod Dentofacial Orthop, August 30, 2022).
To understand differing viewpoints among silent generation, baby boomer, Generation X, and millennial orthodontists, a web-based questionnaire was sent to these clinicians in the U.S. and Canada. In addition to soliciting information about demographics, the multiple-choice survey asked orthodontists questions about their technology use, their predictions about the specialty, and student debt.
Of the 480 respondents, 343 were male and approximately 134 were female. A total of 67 were silent generation, 163 were baby boomers, 126 were Generation X, and 121 were millennials. In terms of career status, 298 worked in private practice, 105 were retired, and the remainder worked in other positions, including as educators and at orthodontic support organizations, according to the study.
In each generation, more than half of orthodontists reported that the biggest current challenge is nonspecialists providing treatment to orthodontic patients. The second biggest challenge cited was orthodontic residents graduating with large amounts of student loan debt, the authors wrote. Past evidence has shown that up to 20% of general dentists provide routine comprehensive orthodontic treatment, including clear aligner therapy, and up to 57% offer some limited form of treatment.
Greatest challenges facing orthodontists by generation
Silent generation
Baby boomers
Generation X
Millennials
Total
Nonspecialists treating orthodontic patients
59.7%
54.3%
50.4%
52.5%
53.5%
Orthodontic residents graduating with high student debt
35.8%
48.2%
42.5%
46.7%
44.6%
Unsurprisingly, the emphasis on the challenge of student loan debt increased from older to younger generations. About 55% of the silent generation had zero student debt at the end of their residency. On the other hand, 60% of millennial orthodontists graduated with $150,000 to $750,000 in student loans.
It would take about 84% of millennials between one and 20 years to be debt-free, the authors wrote. Although about 73% of respondents reported that student debt didn't affect their career choice, the Cochran-Armitage trend test, which aims to detect an association between a variable and categories, showed that this figure became less true, the authors wrote.
Limitations of the study include that the questionnaire could have included more Q&A options. This was not done out of respect for those who contributed to the survey design, they wrote. Identifying positive and negative trends can improve the creation of future policies for clinicians, administrators, educators, and students, the research team wrote.
"The demand and value for treatment from an orthodontic specialist will remain if specialists maintain and uphold high standards of care; and there will be an increased need for public awareness regarding the benefits of seeking specialized care," Hussain and colleagues concluded.