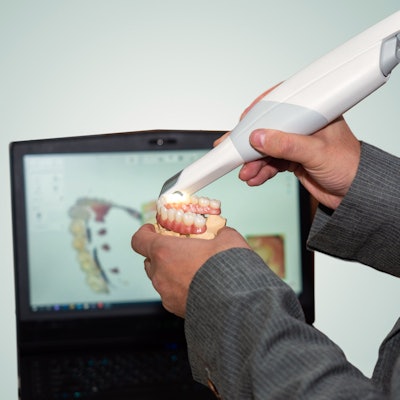 The fabrication and use of intraoral appliances are becoming a routine part of dental practices, according to a study published in the December issue of the Journal of the American Dental Association. Researchers analyzed intraoral appliance application, practice workflows, and changes in practice trends.
"There likely will be ongoing interest in relevant learning opportunities about technologic advances as well as the increasingly diverse list of applications for intraoral appliances," wrote the study authors, led by Dr. Kevin Frazier of Augusta University in Georgia (JADA, December 1, 2022, Vol. 153:12, pp. 1189-1190).
Researchers developed a survey to learn more about intraoral appliance use, fabrication methods, staff involvement, and patient experiences in dental practices. The survey was distributed to ADA clinical evaluator panelists in July 2022.
The responses indicated that "intraoral appliances were found to be used commonly in dental practice, and often multiple members of the dental care team were engaged in the fabrication process," the study authors wrote.
Of the 286 survey respondents, 88% reported providing patients with intraoral appliances other than removable partial dentures. More than half reported offering bleaching trays (88%), flippers or Essix retainers (83%), splints (81%), athletic mouthguards (72%), orthodontic retainers (60%), fluoride trays (56%), and clear aligners (55%).
"The biggest change to practice in the past 5 years with respect to intraoral appliances have been intraoral scanning and the increase in the variety of intraoral appliances in use," Frazier and colleagues noted. Of the survey respondents, 56% reported offering intraoral scanning.
Seventy-two percent reported that dental assistants were involved in the workflow, and 76% reported that lab technicians were involved. However, 97% of respondents reported that the dentist was involved in the delivery of appliances to patients.
Ninety percent of respondents reported engaging in continuing education courses about intraoral appliances, which aligns with these appliances becoming a routine part of dental practice.
Reports of adverse outcomes associated with intraoral appliance use were low. Ninety-seven percent of respondents reported they occurred only sometimes or never. The most commonly reported problems included poor fit, soreness, discomfort, and soft-tissue irritation.
"Although initial understanding about intraoral appliance use in practice begins in dental school, the advances in fabrication, as well as the growth in applications for intraoral devices, suggest that intraoral appliances will be a topic of interest for continued learning to enable clinicians to stay abreast of changes in the field," Frazier and colleagues concluded.