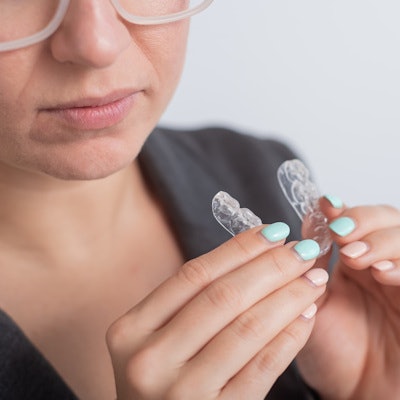 Imaging revealed an increase in alveolar bone defects in adults with mild to moderate crowding who underwent clear aligner therapy without tooth extractions, according to a study published in the American Journal of Orthodontics and Dentofacial Orthopedics.
Cone-beam computed tomography (CBCT) scans taken immediately after patients completed nonextraction clear aligner therapy showed counts of alveolar bone dehiscence rose by about 11 percentage points, and alveolar bone fenestration increased by about 5 percentage points, the authors wrote.
"Nonextraction clear aligner therapy (CAT) increased the presence of alveolar bone defects in adults immediately after posttreatment," wrote the authors, led by Dr. Diaa Ossama Allahham of the University of Rochester in New York (Am J Orthod Dentofacial Orthop, September 22, 2022).
Currently, it is common for adults with crowding to undergo orthodontic treatment with clear aligners without extractions to correct their teeth and improve function and aesthetics. However, the authors state that there is a lack of clinical studies that have compared the presence of alveolar bone dehiscence, which is when the defect spreads to the marginal bone, and alveolar bone fenestration, which is bone loss on the lingual area of a tooth, before and after clear aligner treatment.
To determine the association between nonextraction clear aligner therapy and the presence of alveolar bone defects, CBCT images from 29 adults were obtained before and immediately after therapy. From the images, the authors reviewed 1,923 root surfaces from 791 teeth. For these patients, the mean treatment duration was 18.62 ± 8.21 months, according to the study.
Total root lengths were evaluated in axial and cross-sectional slices. Linear measurement for dehiscence (LM-D) was the distance between the alveolar crest to each root's cementoenamel junction. Linear measurement for fenestration (LM-F) was documented when the defect involved the apical one-third of a root. Before and immediately after nonextraction clear aligner treatment, counts of dehiscence and fenestration and magnitudes of LM-Ds and LM-Fs were recorded at buccal and lingual surfaces. Also, binary logistic regression analyses were conducted, they wrote.
Of the 1,923 root surfaces that were assessed, 859 counts (45%) of alveolar bone dehiscence and 194 counts (10%) of alveolar bone fenestration were recorded before clear aligner therapy. Immediately after nonextraction clear aligner therapy, 1,068 counts (56%) of dehiscence and 282 counts (15%) of fenestration were recorded on root surfaces, and the same was observed at multiple jaw locations, the authors wrote.
Moreover, the use of the convenience sample of adults with mild to moderate crowding and class I or mild skeletal class II malocclusion treated by one clinician is a limitation of the study. It limits the generalizability of the study's results, the authors wrote.
Nevertheless, it is recommended that adults undergo preorthodontic periodontal consultation, since past studies have suggested alveolar bone defects may be predisposing factors for adverse periodontal events, including gingival recession, after orthodontic treatment, they wrote.
In the future, more studies should be done to identify combined periodontal-orthodontic treatment protocols for the prevention and management of alveolar bone defects during clear aligner therapy, the authors wrote.
"From a clinical standpoint, the authors recommend caution when performing nonextraction CAT in adults with crowded dentitions to avoid the occurrence or worsening of preexisting ABDs/ABFs," Allahham et al concluded.