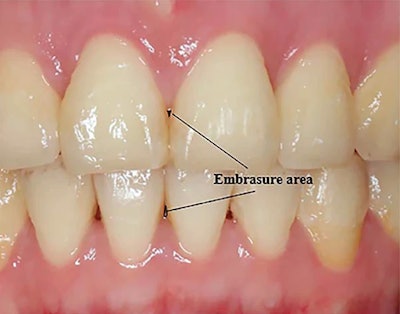 Clear aligner therapy patients may not only be more likely to be left with open gingival embrasures than those treated with fixed orthodontics, but these gaps between the teeth may be larger, a study recently published in Head & Face Medicine found.
Clinicians should know about the risk of open gingival embrasures (OGE) with clear aligner therapy and explain these potential consequences to patients, the authors wrote.
"Despite an invisible appearance during orthodontic treatment, our present study clearly showed that aligner treatment creates a new dilemma in the esthetic zone, the higher incidence of OGEs," wrote Dr. Lang Lei, of the Department of Orthodontics, Nanjing Stomatological Hospital, Affiliated Hospital of Medical School, Nanjing University, China (Head & Face Medicine, July 17, 2023).
Open gingival embrasures can be undesirable effects of orthodontic treatment, which can fail to meet patients' esthetic demands and can affect periodontal health due to plaque retention. Until now, the authors believe there have been no clinical studies that have evaluated whether clear aligners may affect the incidence of gaps, according to the study.
To evaluate the incidence and severity of open gingival embrasures in adults treated with clear aligners in comparison to fixed appliances, the authors conducted a retrospective study with 200 adults with no extractions and less than 5 mm of crowding. Of the adults, 100 were treated with clear aligners, and 100 wore passive ligation brackets.
To determine the incidence of gaps in the upper arch between maxillary central incisors, as well as the lower arch between mandibular central incisors, intraoral photos were used. Utilizing the images, they determined open gingival embrasures by measuring crown overlap and shape, post-treatment root angulation, the distance from the interproximal contact point to the alveolar bone crest after treatment, and interproximal enamel reduction after treatment, the authors wrote.
In those treated with clear aligners, the incidence of gaps between maxillary central incisors was 35% and 38% in mandibular incisors. These were significantly higher than 18% in maxillary incisors and 24% in mandibular incisors in those treated with fixed orthodontic appliances, they wrote.
After clear aligner therapy, the average area of an OGE was bigger in the upper jaw (0.16 ± 0.12mm2) and lower jaw (0.21 ± 0.24mm2). After fixed orthodontics, the average area of a gap was 0.05 (± 0.03mm2) in the upper jaw and 0.05 (± 0.06mm2) in the lower jaw, they wrote.
Nevertheless, the study had limitations, including the nature of a retrospective study. This type of study makes it difficult to randomize and standardize the data, they wrote.
Moreover, more studies are needed to investigate the link between clear aligners and the incidence of tooth gaps among different populations -- for example, patients with periodontal diseases or extracted teeth, Lei et al wrote.
"It is necessary for practitioners to have a discussion with patients about the occurrence of OGEs before treatment and take the type of orthodontic appliances into account to prevent or reduce esthetic problems," the authors concluded.