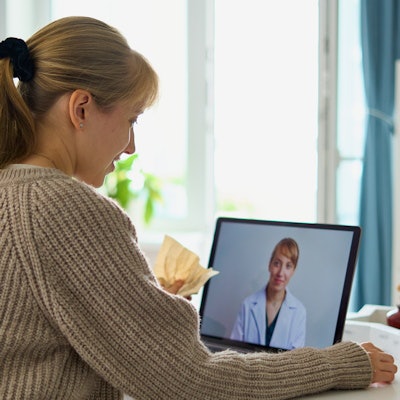 Orthodontic patients prefer face-to-face interactions with their providers rather than teledentistry, according to a study published on November 19 in the American Journal of Orthodontics and Dentofacial Orthopedics.
Teledentistry for orthodontics is growing, but patient preferences for its use have remained unknown. Researchers assessed the perceived value of face-to-face interactions between patients and orthodontists, the desire for convenience, and attitudes toward specific uses of teledentistry for orthodontics in the study.
"Most respondents were comfortable communicating with the orthodontist virtually but were uncomfortable with their actual treatment progress being checked virtually," wrote the study authors, led by Dr. Jackson Griffeth of Virginia Commonwealth University.
According to the study's authors, the study sample reflected a common orthodontic private practice patient base regarding the ratio of adult and child patients, treatment modalities used, and sex distribution, providing the study with broad applicability for private practice orthodontists.
Participating orthodontists emailed an electronic survey to active patients, and responses were compared on the basis of patient characteristics. There were eight orthodontists included in the study as well as 388 patients from the West Coast, Southwest, and Southeast U.S. Practices represented a large range of city populations, from 50,000 to 850,000.
Study findings indicate a clear preference for face-to-face interactions from both adult patients and parents of child patients. However, adult preference for face-to-face interactions was slightly higher.
One of the most commonly discussed benefits of telehealth is patient convenience. However, 85% of parents reported that their child's treatment fit conveniently with their other schedule demands. Researchers speculate that because of the elective nature of orthodontics, most patients can wait to seek treatment until their schedule allows it.
Study findings also indicate a greater interest in teledentistry among clear aligner patients. These patients may be motivated by the notion of less physical manipulation compared to treatment with braces, according to the study. Yet, nearly 80% of clear aligner patients still preferred face-to-face interactions with their providers.
"Although convenience is likely to be desired by most, if not all, of our patients, there are other important motivations, such as quality of care, comfort, value, and rapport with the orthodontist," wrote the study authors.
Based on the study's findings, researchers drew the following conclusions:
Regular patient-provider rapport is preferred and considered to be important by patients.
Patients do not view orthodontic treatment as inconvenient.
Teledentistry is used most appropriately to supplement communication rather than replacing face-to-face communication.
Patients generally do not prefer retainer checks, emergency appointments, or online consultations through teledentistry.
"Implementing teledentistry in orthodontics should be applied on a patient-to-patient basis with continued emphasis on the doctor-patient relationship," Griffeth and colleagues wrote.