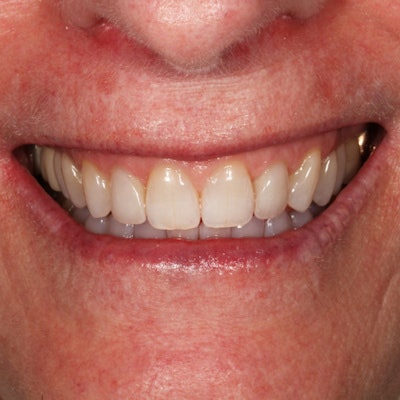 Tooth whitening, with its various delivery mechanisms, has been a very successful noninvasive procedure to improve smiles for decades. As a result of the COVID-19 worldwide pandemic, a significant percentage of the workforce was forced to work remotely from home using video conferencing platforms. Consequently, many people began noticing their teeth and smiles while they looked at themselves on the computer screen.
With the rise of video conferencing, people not only saw the color of their teeth but other flaws, such as chipped or worn incisal edges, crooked teeth, or old restorations that don't match with the rest of their natural teeth. This led to an increased number of adults doing orthodontic treatment with clear aligner therapy as well as other elective dental procedures to rejuvenate and enhance their smile.
In many cases, when an adult completes orthodontic treatment, their teeth are straight, but they are still not completely satisfied because of worn or chipped incisal edges, old restorations that don't blend, stained enamel, or tooth size discrepancies.
These patients typically do not want or need a full smile makeover with porcelain veneers, and they don't want to drill down their otherwise healthy teeth for indirect restorations. However, they do desire noninvasive or minimally invasive cosmetic procedures that will restore and rejuvenate without irreversibly damaging their enamel.
This article will present a few cases that illustrate the use of in-office tooth whitening in conjunction with direct composite bonding.
Case No. 1: Wedding ready
In many instances, individuals will make an effort to enhance their smiles in preparation for a big event. In this case, the patient's daughter was getting married, and she initially assumed she would need many porcelain veneers. Her primary concerns were the small lateral incisors and the overall color of her teeth.
After evaluating the time frame and discussing all the potential options, including any advantages/disadvantages, the patient elected to go with a very conservative and noninvasive approach.
To begin, an express course of clear aligner therapy was used to improve her arch form, occlusion, and to position the anterior teeth with proper spacing for subsequent restoration. After the tooth movements were completed and prior to restoring the teeth, she wanted to improve the overall color of her teeth with an in-office tooth whitening system. Under normal circumstances she may have chosen to do at-home whitening with custom bleach trays; however, she was on a tight time frame to complete her treatment before her daughter's wedding.
For optimal results and patient comfort, proper isolation is key. This is achieved with a cheek/tongue retractor, cotton rolls, and a light-cured Liquidam gingival barrier to prevent the whitening gel from irritating the soft tissues. Four 15-minute cycles of whitening were accomplished.
The initial shade was recorded at D4/D3, and the final shade was B2/B1. The patient was then given a few days to let the teeth rehydrate and color stabilize before the restorative appointment.
For the restorative part, slight gingivectomies on teeth #7 and #10 were done with local anesthetic and a radiosurge. The teeth were cleaned and prepared with air abrasion, acid etching, and bonding resin, and a polychromatic layering technique was used to build direct composite veneers on the lateral incisors along with some minor additive bonding to a few other areas to create harmony and balance.
In the end, this patient was very satisfied with her enhanced smile that looked totally natural and preserved all of her healthy tooth structure with no drilling. The initial shade was recorded at D4/D3, and the final shade was B2/B1. However, by exercising a little patience and going with a much more conservative and less invasive option, she still achieved an exceptional result that she is proud of and that saved a whole lot of tooth structure and money.
Case No. 2: No more braces
This next case is a classic scenario of a teenager finishing with orthodontics who has smaller peg lateral incisors as well as a small chip on the incisal edge of tooth #8. The restorative options include indirect porcelain veneers versus direct composite veneers to restore the small lateral incisors and composite bonding to repair the #8 incisal edge.
After the advantages and disadvantages were explained to the patient for each material, she chose the noninvasive direct composite option. It was then explained that with either option, the restorations would be built to match the color of her teeth, so if she was considering whitening her teeth, she would have to do that first.
In this practice, nearly 100% of patients of all ages who are completing orthodontic treatment require some kind of post-orthodontic restorative work and desire to whiten their teeth. Even those who do not require any post-orthodontic restorative work choose to whiten their teeth, whether it be with over-the-counter products or professional treatments at the dental office.
Because this was a younger patient and they were already used to wearing clear aligners, they chose to do take-home whitening trays with 14% hydrogen peroxide gel. Impressions were taken from which bleaching trays were fabricated as well as a diagnostic wax up for the direct composite layering technique. The beginning tooth shade was recorded at an A3.5 and the post-whitening shade was a B1+.
The teeth were cleaned with a pumice slurry followed by air abrasion, and a mild amount of soft tissue sculpting with a radiosurge. The composite was layered one shade at a time from the palatal toward the facial surface.
Color matching can be challenging with direct composite layering because of tooth dehydration, which alters the overall color of the natural teeth. To get the best possible matching results, composite shades are selected before tooth preparation, and preoperative photographs are taken and shown on the computer screen to act as a reference. In addition to this, a cross-polarized camera lens filter helps remove all reflective light, which aids in shade selection both before and during the composite layering.
At the follow-up appointment a few weeks later, the patient reported being satisfied with the color and shape of her smile. A new maxillary alginate impression was taken so a new upper bleach tray could be made to fit the new shape of the restorations for future color maintenance.
Dr. Kevin M. Brown has been in private practice in Bellevue, WA, since graduating from the University of Washington School of Dentistry in 2006. He quickly fell in love with the art of direct composite bonding and developed his composite handling skills through the American Academy of Cosmetic Dentistry's accreditation process. Brown can be contacted by email at kbrown@jensenbrowndds.com, or you can follow him at dr.kevin_brown.
The comments and observations expressed herein do not necessarily reflect the opinions of DrBicuspid.com, nor should they be construed as an endorsement or admonishment of any particular idea, vendor, or organization.
Note: Philips Oral Healthcare provided Dr. Brown with an honorarium for his work on this article.