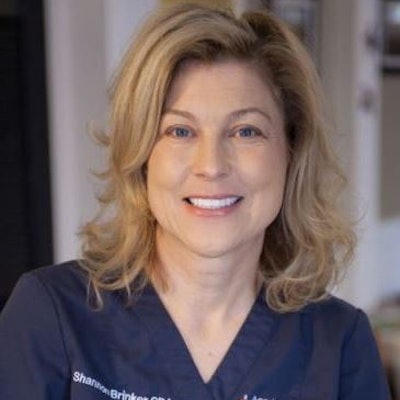 The demand for teeth whitening is huge and won't go away any time soon. Therefore, dentists should expand these services to increase practice profitability and attract more patients, according to a presenter at the Chicago Dental Society 2023 Midwinter Meeting.
Shannon Pace Brinker, a certified dental assistant in Virginia and the owner of the Academy of Chairside Assisting, said it is the responsibility of dental teams to learn and inform patients about whitening options.
If practices don't get in on the action, "trust me, they will seek other people to do the whitening," Brinker said.
Knowing the chemicals
Over-the-counter whitening toothpastes and mouthwashes can help maintain whitening after the desired color is achieved, but they won't make teeth three or four shades whiter, she said.
"It does not work that way, and if anyone tells you they do, they're lying," Brinker said.
Significant shade change depends on hydrogen peroxides and carbamide peroxides, the most common active ingredients in whitening products that dissociate into hydrogen peroxide and urea. Carbamide peroxide is ideal for at-home whitening because of its slow breakdown during oxidation, releasing 50% of its whitening power in the first two hours and up to eight hours after treatment.
On the other hand, hydrogen peroxide releases whitening power almost instantly. The duration of exposure time and bleaching agent concentration directly affect the diffusion of hydrogen peroxide through the dentine and the efficacy of the whitening treatment, Brinker said.
That's why true teeth whitening starts at the dental office, where professionals can provide a patient with a custom home tray or a prefilled one with percentages of chemicals that clinicians control.
"Thus, dental supervision is essential to ensure proper concentration and application time to avoid complications and side effects from whitening," she said.
It's sensitive
Whether it be in-office whitening or a take-home treatment, teams will always be faced with patients with sensitive teeth. However, getting a documented history from patients about their whitening can go a long way toward helping them understand what they may experience, Brinker said.
"I never want to jump in and whiten a patient's teeth without knowing what the repercussions could be," she said.
Before any in-office whitening procedure and throughout whitening treatment, she encourages patients to use Opalescence Whitening Toothpaste Sensitivity Relief for several weeks. It's formulated with potassium nitrate to help reduce sensitivity, and it removes surface stains, keeping patients' smiles bright after the whitening treatment, she said.
Forget the hype
Many do-it-yourself influencers focus on homemade ingredients and promote charcoal toothpaste.
"There is no science behind charcoal toothpaste, and one of the essential things is to make sure that patients understand that this is a problem when it comes to these activated charcoal gimmicks, because we have to think about the tooth structure," Brinker said.
It is therefore critical that dental teams recommend good quality products that will help remove stains but that are also safe and kind to tooth enamel, she said.
Whitening treatments boost profitability
Expanding bleaching services is a no-brainer since whitening production ranges from $100 to $500 for in-office and take-home treatments, she said.
"If you have three patients on your schedule to do whitening, that could be up to $1,000 or more in production," Brinker said.