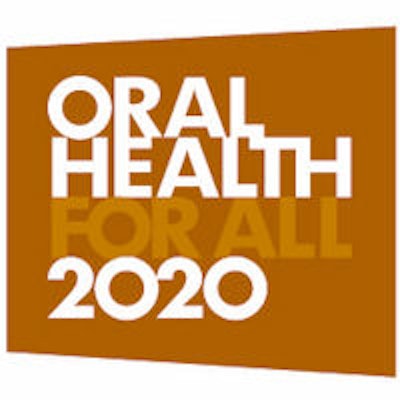 In a time of continued partisan politics when it comes to funding dental and healthcare programs on every level, the DentaQuest Foundation has launched its latest and maybe most ambitious project, Oral Health 2020, with an overall goal of eradicating dental disease in children and improving oral health across the life span.
With four goals broken into subgoals (see sidebar below), this initiative aims to expand on the foundation's Oral Health 2014 program's work in creating a national network of national, state, and community-based change agents dedicated to improving the oral health of all.
"Our strategy is to identify and engage more diverse partners, to determine where are the most significant disparities, and then employ strategies that reach those groups."
— Brian Souza, managing director,
DentaQuest Foundation
DrBicuspid.com talked with Michael Monopoli, DMD, MPH, director of policy and programs for the DentaQuest Foundation, and Brian Souza, managing director of the foundation, about the goals of the Oral Health 2020 initiative; specific strategies to engage vendors, partners, and the community; and how to measure the success of the initiative.
Oral Health 2020 is a nationwide initiative that came out of work and investments that have been ongoing for a number of years, according to Souza.
"Oral Health 2020 is as an initiative of the foundation to engage and activate a broad and diverse group of stakeholders across the country around the achievement of specific and important goals for improving the oral health of all," he said.
Raising awareness of the issues is important, he noted, but it was also important to continue and increase "the successes that are happening across the country."
Impressive goals are a starting point, but it takes specific, detailed strategies to see them come to fruition. Dr. Monopoli said those strategies are multifaceted.
"The central role for the foundation is to work toward developing the resources, background, and the information that those who are advocating for change can utilize," he said.
It is up to the foundation to study successes and build on those, Dr. Monopoli noted.
"We have to look at what specifically worked in some states," he said. "In some cases, this will show us how to engage policymakers and influential decision-makers."
Oral Health 2020 goals
Goal 1: Mandatory inclusion of an adult dental benefit in publicly funded health insurance
By 2020, at least 30 states have a comprehensive Medicaid adult dental benefit and no states that currently have a Medicaid adult dental benefit roll back or eliminate that coverage.
By 2020, Medicare includes a comprehensive adult dental benefit.
By 2020, oral health is a component of patient-centered care models.
Goal 2: Oral health incorporated into the primary education system
By 2020, the 10 largest school districts have incorporated oral health into their systems.
Goal 3: Comprehensive national oral health measurement system
By 2020, a comprehensive national and state oral health measurement system is in place.
Goal 4: Eradicate dental disease in children
By 2020, 75% of children reach age 5 without a cavity.
A key strategy is to build off "formative investments" the foundation has made over the last several years, Souza said. He cited one goal in particular, the goal of having oral health incorporated into systems of the 10 largest public school districts in the U.S.
"We have been working with and investing in the Los Angeles district for the last two-and-a-half years," he said. "We've been working with the LA Trust for Children's Health to map out and integrate a strategy. We're asking questions like: 'What is the district-wide policy (or set of policies) that is needed to make an oral health program work?' 'How should this program be financed?' 'Who will provide the care?' and 'How do we engage parents in the schools?' "
Another goal, to have 75% of children reach age 5 without a cavity, takes a deeper analysis of the numbers and more inclusive strategies, Souza said.
"The best data we have suggest 70% of children reach age 5 without a cavity, if you look across all the children," he said.
But, those are only overall numbers.
"The moment you go a level below that and look at a slice of the data based on socioeconomic or race/ethnicity, you see those numbers drop pretty dramatically," Souza said. "Our strategy is to identify and engage more diverse partners, determine where are the most significant disparities, and then employ strategies that reach those groups."
According to Souza, the foundation has to ask how to better engage new and expecting parents, the dental and medical communities, and the social services sector as partners to achieving this goal.
Dr. Monopoli summed up the foundation's role as to creating the resources and providing the background materials.
"We play that role, but it's the people in the community, the grantees, and our partners who are the ones moving things forward," he said.