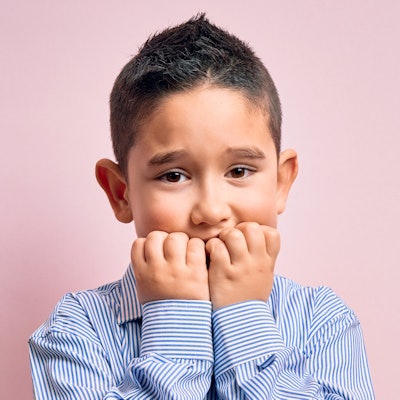 Dental care topped the list of children's unmet healthcare needs during the COVID-19 pandemic, according to a study published on February 6 in the Journal of the American Dental Association. That risk was even higher for children whose parents lost a job or income.
Researchers from the University of Pittsburgh surveyed 348 local families to better understand how the COVID-19 pandemic's economic effects impacted dental care for children in the area. About 40% of families reported the loss of a job or income, which likely resulted in more children being unable to get needed oral healthcare.
"In our sample, three times as many households reported unmet dental care for a child compared to unmet medical care," wrote the authors, led by Dr. Jacqueline Burgette, PhD, an assistant professor at the University of Pittsburgh School of Dental Medicine.
The researchers developed the Family Strengths Survey (FSS) in April 2020 in coordination with pediatricians, child health researchers, and public health and social service organizations. The goal of the survey was to track the experience of families with children younger than 18 years in the wake of the COVID-19 pandemic.
The new study relied on FSS survey data during the week of June 25 to July 2. During that week, Burgette and colleagues asked 348 parents and caregivers about their children's unmet medical needs, including dental care needs.
The authors predicted that dental care would be the greatest unmet healthcare need -- and that the need would be higher in families with a job or income loss.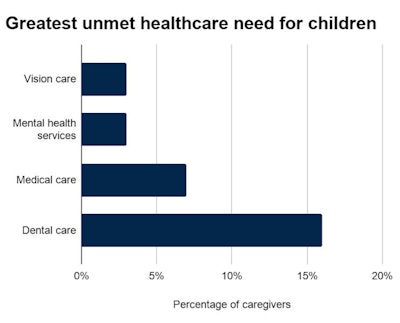 The group's hypothesis proved true. A total of 16% of families said dental care was the greatest unmet medical need for their children -- the highest percentage of any other type of care need. In fact, three times more caregivers said a child needed dental care than medical care for a well visit or vaccination.
Families with unmet dental care for children were significantly more likely to have experienced a job loss or decrease in income during the pandemic. The risk of unmet dental care was 21% in households that experienced economic hardship compared to 12% in households without a job or income loss.
Furthermore, a family member losing a job or experiencing a decrease in income was associated with a 77% greater risk of a child experiencing an unmet need for dental care. The phenomenon extended to children across all household income levels.
"Before the COVID-19 pandemic, more Americans reported financial barriers to receiving dental care compared to any other type of [healthcare]," the authors wrote. "Financial barriers to dental care are now magnified during a time of job loss and decreased household income during the COVID-19 pandemic."
The authors can't say the specific reasons for unmet dental care in every family, but they pointed to research showing a rise in the number of caries diagnoses in hospital emergency rooms and a sharp decrease in dental service utilization during the height of the pandemic in March and April of last year.
The findings also prompted the authors to call for a restructuring of the oral healthcare delivery system. Some solutions proposed by the team include the broader use of teledentistry, applying topical fluoride and sealants in primary care settings, and using minimally invasive services that don't generate aerosols.
"The current pandemic is a call to action to reinvigorate our efforts in primary prevention for oral health, with a particular focus on solutions that promote oral health for all Americans regardless of employment or income," they wrote.