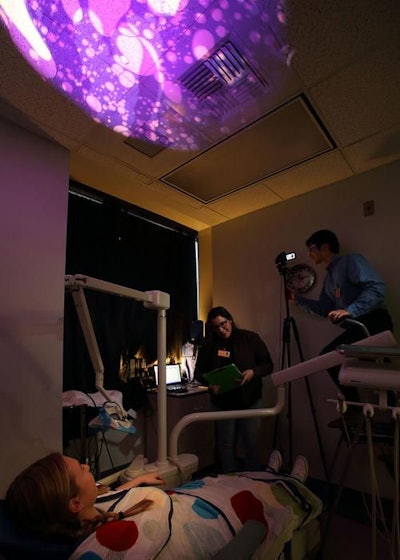 Image courtesy of Phil Channing/USC.
A sensory-adapted dental clinic environment can make dental cleanings a lot less distressing for autistic children, according to research published on June 2 in JAMA Network Open.
Researchers from the University of Southern California (USC) compared the behavioral and psychological distress experienced by 162 children with autism receiving dental cleanings in a standard clinic environment and then in an adapted setting.
The adapted room featured blackout curtains hung over the windows and a slow-motion visual effect -- chosen by the children -- that was projected onto the ceiling. In addition, a portable speaker played calming nature sounds and quiet piano music.
In addition, a traditional lead x-ray bib was placed on the child's chest, and a "butterfly wrap" secured around the dental chair provided a deep pressure hugging sensation. The dentist wore a surgical loupe with an attached lamp. The research team reported that the children experienced significantly lower distress in the sensory-adapted dental room.
"We've shown that the combination of curated visual, auditory, and tactile adaptations -- all of which are easily implemented, relatively inexpensive, and don't require training to safely use -- led to statistically significant decreases in autistic children's behavioral and physiological distress during dental cleanings," said lead author Leah Stein Duker, an assistant professor at the USC Chan Division of Occupational Science and Occupational Therapy, in a press release from USC.
In addition, there were no differences in the quality of care provided in the adapted environment. What's more, no significant differences were found in the amount of time required to get the child seated and ready for the dental cleaning. These results show that these adaptations don't create logistical hurdles, according to the researchers.
"So many interventions try to change the person," Stein Duker said. "Instead, this intervention sees children for who they are -- it does not try to fix or change them -- focusing the intervention to modify problematic environmental factors as a way to empower the child and family to engage successfully in occupation."