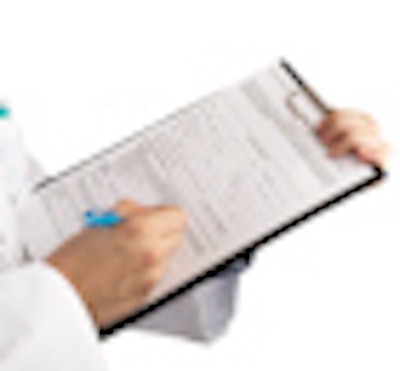 A new study in the Journal of Periodontology (June 15, 2012) has added clinical support to recent publications suggesting a need for standardizing the terminology used in diagnosing periodontitis.
"An issue in periodontitis diagnosis is the lack of a single consensus document where all the information needed to form a diagnosis is contained," the study authors wrote. "Hence, a 'gold standard' for diagnosis of periodontitis is lacking."
The idea for the study arose from discussions with periodontal thought leaders, study author Frederick Curro, DMD, a clinical professor at the New York University College of Dentistry, told DrBicuspid.com.
"The study was initiated to assess the consistency of periodontal diagnosis by general practitioners," he explained.
Randomized case presentation
The randomized case presentation study consisted of 10 case scenarios ranging from periodontal health and gingivitis to mild, moderate, and severe periodontitis, and included 130 members of the Practitioners Engaged in Applied Research and Learning (PEARL) network, in which member dentists conduct practice-based research pertaining to clinical issues of everyday practice.
Standard information for each case included probing depth, bleeding upon probing, bone loss, furcation involvement, mobility, clinical attachment loss, and presence of inflammation. For each case, participants were asked to signify their diagnosis from periodontal health, gingivitis, and mild, moderate, and severe periodontitis, or, alternatively, referral to a specialist for the diagnosis.
"This finding points to a need for consensus in diagnostic terminology in dentistry."
— Frederick Curro, DMD
After respondents were asked for their diagnosis of the described cases, the diagnoses were compared with two existing classifications of periodontal disease status.
The authors found "demonstrable variations" in periodontal assessment among the 130 PEARL general practitioners who participated in the survey. The range of agreement among dentists for all 10 case presentations was 55% to 88% representing the cases described from health to severe periodontitis. The highest agreement for diagnosis among dentists (88%) was for severe periodontitis. The highest percentage of variation was found in cases with health and gingivitis.
"Our findings suggest that the lack of consensus in the definitions of periodontitis may have contributed to the variation in diagnosis by the practitioners," the authors wrote.
This variation may affect treatment outcomes, they cautioned.
Dr. Curro expressed surprise at these findings and said he and his co-authors were expecting more agreement on cases.
"This finding points to a need for consensus in diagnostic terminology in dentistry," he said.
The variation in terminology has been noted in recent literature reviews on periodontal disease, but no direct clinical study data exist about the effects of this on practicing dentists, he added. This is the first clinical data demonstrating potential impact of the variation in terminology.
PEARL dentists are screened prior to becoming members and represent a percentage of dentists who would be more engaged in the profession, which means the data in this study represent the most favored presentation, Dr. Curro noted.
A coding disconnect
The historical basis for this variation of a periodontal diagnosis is based on the coding of dental procedures for reimbursement purposes, the study authors wrote. Dentists are required to treatment plan using the Code on Dental Procedures and Nomenclature (CDT Code), Dr. Curro noted.
While diagnosis occurs as part of the decision to treat, it is not required to be documented, he added. However, medicine requires diagnosis codes for every oral health encounter.
An oral health diagnosis for a hospital or medical encounter is made using the International Classification of Disease, the study authors wrote. Dentistry currently has a disconnect between procedure codes (CDT) and diagnosis codes (ICD), which only confounds the issue of terminology.
"Being aware of the systems used in medicine, as well as the professional association guidelines is good practice," Dr. Curro concluded. "This study will hopefully give practitioners the background to understand the dilemma they may face due to variation in terminology that exists in dentistry."
A consensus of standardized terms related to periodontal health states, risk assessment, and diagnosis codes may increase diagnosis accuracy, which could result in additional health and cost savings, he and his co-authors concluded.
"If a patient is treated for periodontitis when they merely have gingivitis, this may have significant costs associated with it," they wrote. "Alternatively if a patient is treated for gingivitis when they have periodontitis, this may be associated with adverse oral health outcomes."