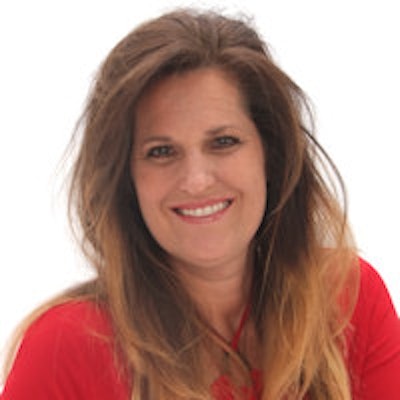 In this latest installment of DrBicuspid.com's Dental Heroes series, we talked with Michelle Noblet-Vacha, RDH, the executive director of Senior Mobile Dental, a nonprofit organization that delivers dental services to underserved elderly patients.
Vacha founded Senior Mobile Dental in 2007 after she experienced firsthand the challenges many senior citizens must overcome when trying to access oral healthcare services. Equipped with more than 20 years of dental hygiene experience, a Bachelor of Science degree from Northern Arizona University, and a team of licensed dental hygienists, dentists, and auxiliaries, Vacha uses mobile dental equipment to help nursing home residents and other low-income senior citizens throughout Colorado get the care they need.
Here she talks about the roadblocks and rewards she has experienced in getting this service up and running, and the looming oral health crisis facing the fastest-growing segment of the U.S. population.
DrBicuspid.com: What drew you to dentistry?
Michelle Noblet-Vacha: My mentors, who were my dentist and hygienist when I was growing up in Glendale, AZ. Going there was always a great experience and top-notch care. I loved getting my teeth cleaned. So they knew that I was interested in being a hygienist, and when I graduated from high school, my hygienist, Fran Noble, said "why don't you come in and watch and see how I work?" So I did, I shadowed her for a few days. And then our dentist, Dr. Nelson Butler, he asked me to shadow him too. And ultimately they trained me to be their dental assistant.
Have you always worked primarily with elderly patients?
After I graduated from Northern Arizona University, I moved to Prescott, which is more of a retirement community. I saw how difficult it was for seniors to come to the dental office and those in the nursing homes to get the care they needed -- many barely got their teeth brushed on a daily basis. This was when Sonicare first came out, and they were offering a professional discount of $39 or $49. I decided I would go to all the dental offices and ask them to get a Sonicare, and then I would go to the nursing homes and teach the staff to use it to brush the residents' teeth. But I pretty much got kicked out of the nursing home facilities. In each case, the staff was overwhelmed by taking care of seniors' needs, and oral health was pretty much the bottom rung of the ladder.
So when I moved to Colorado, this was still bothering me because as a profession we have succeeded in our mission to preserve peoples' teeth, and now these people are older and can't afford the care or take care of themselves, and they fall into disease and neglect. And when I got to Colorado, I started seeing the same thing.
Besides access to care, another huge barrier the elderly face is coverage. Many senior citizens lost their dental insurance once they retired, and many more are living on a fixed income. Many seniors face having to choose between buying medications or paying for utilities over continuing the oral healthcare they received throughout their life. Medicaid and Medicare don't cover preventive oral healthcare, and there is limited support for adult oral healthcare.
So this is what prompted you to found Senior Mobile Dental?
I formed Senior Mobile Dental as a nonprofit to help those who couldn't afford any care. In Colorado, there is a direct access law that allows hygienists to work directly with patients without supervision by a dentist.
The disease and neglect of this population is so extreme, and dental care has fallen into addressing palliative care because we are so far behind in treating them. Many states don't have the resources. So I formed this nonprofit to be replicable so other states could take it and replicate it. Arizona was an easy place to start because of my connections there, but right now the hygienists who had invested in the Arizona chapter are at a standstill due to lack of funding.
What were some of your challenges early on?
What I didn't realize was that in trying to get support for the seniors, we would be in competition with children's programs, and most foundations support children's programs first. In fact, the head of one of the foundations where I had been repeatedly denied funding support actually told me "this is not a good long-term investment of our funds." I was totally shocked.
Another challenge was finding dentists willing to work with me and accept the low fees that the seniors could afford. So for our first six years, it was a struggle. We were barely keeping afloat.
As a nonprofit, how do you fund your operations?
Until the beginning of this year, my family took a huge pay cut. We were barely getting by as a low-income family, but we were able to keep providing services to the elderly. Medicare is zero, but Medicaid will reimburse seniors in long-term care facilities through a special system in these facilities. That was how I was able to stay afloat during those first six years.
Then last year Colorado reinstated the Old Age Pension Dental Assistance Program. So with that we progressed from being dental hygiene-based to providing full dental care. We now have two dentists working with us, a denture lab technician, three hygienists, and all the auxiliary staff. We are currently working eight to 10 days a month.
In the first five months of this year, we saw 443 seniors and provided $330,000 worth of care. But that number is based on following Medicaid fees, which means we followed a lower fee schedule, not the usual and customary fees. So in true value, we actually provided more than $660,000 worth of care.
Do you get product donations?
We have, yes. The product donations are what allowed this program to survive in those first six years. We have received donations from Young Dental, Colgate, Crest, SunStar America, Kerr, Premier -- and it has made a huge difference. Now we are also ordering dental supplies (not just hygiene), and what has helped me there is BiteDown Deals. We use them regularly, along with other dental suppliers.
Tell us about the teledentistry feasibility project you are involved with.
The Dental Trade Alliance (DTA) funded us to demonstrate the feasibility of the teledentistry concept. My whole purpose in implementing teledentistry is that these patients, especially in nursing homes and rural regions, don't have access to care. So at least if I can get in there and get the x-rays and intraoral pictures to facilitate diagnosis and treatment planning, we can facilitate getting the care. We can start identifying life-threatening abscesses and oral disease. The grant is for a year and a half, and we started in 2012. So I'll be reporting back to the DTA on this at the end of this year.
Do you have plans to expand Senior Dental Mobile into other states?
We are always open to expanding our services. We have had requests, but at this point we really need to find a business consultant to help us on a volunteer basis. As for other states, we are encouraging a chapter model. Why reinvent the wheel if we have already figured out systems and how to do it? In the nonprofit industry, they are called chapters -- in business, they would be called franchises. I have had 10 states, including Arizona, request information and express interest. But, at this point, Arizona is the only one that has gotten as far as it has.
Do other states have laws that allow hygienists to operate without direct supervision of a dentist?
Within the last five years, other states have been passing similar capabilities, some with restrictions. That has been another one of the roadblocks for Arizona -- they had passed the new regulations, but there were restrictions involved. One of restrictions is that a dentist has to see a patient before the hygienist can see a patient for a recall. Due to their poor oral hygiene, they require a three-month recall. It is difficult to get the nursing home patient and dentist together to do this due to time and low compensation, so it just hasn't happened yet. Fortunately, in Colorado, I was able to find excellent dentists who we could hire and we could pay them.
So other states are getting these things passed, but I don't know if restrictions are prohibiting success.
What is most gratifying about being able to offer this service to seniors?
The most gratifying is bringing the dental profession to an unaccessed and often forgotten population and the sheer appreciation from the families and the seniors themselves. This has overshadowed the struggles I've endured. We are 98% successful in providing dental hygiene services to even the most advanced Alzheimer's patients. These people have taken care of their teeth their whole lives and they are proud of that. But in many nursing homes, the staff would say to me, "Oh no, Mrs. Jones will never let you touch her mouth." But when the patient would hear the prophy sound or the suction, they remembered and they allowed it. So even though they may not understand initially, once they feel and hear what is happening, it is familiar and they allow it. That is also very fulfilling.
What advice would you give to other dental professionals interested in working with seniors?
There are a lot of barriers, so keep your sights on what you want to accomplish, and keep taking one step at a time in order to provide full dental care to an underserved population.
I think there is a growing trend toward caring for the elderly as the laws change and the economy pushes the need for dental professionals to supplement their income. I have noticed a difference, but more for-profits than nonprofits. The thing is, we are so far behind the curve in the disease that the cost of care is astronomical, so, really, palliative care should be our initial first steps.
Situations have also occurred where I am afraid that if we are striving for integrated healthcare and bringing medical and dental together, we need to be cognizant in what we are portraying when certain treatment plans are presented.
My efforts are to bring access to care to this population. But there are so many issues I never expected to encounter. The elderly are the fastest-growing population in the U.S., and we have no systems in place to ensure their proper care. It is an oral health crisis, and it is not being addressed in the speed and need we are going to be hit with.