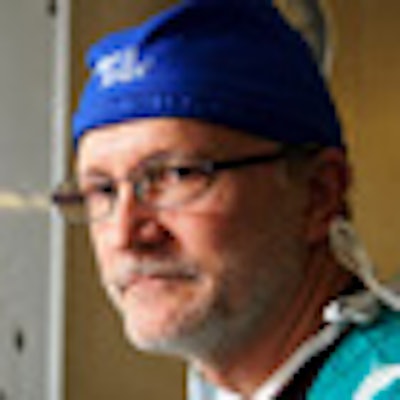 In this latest installment of DrBicuspid.com's Dental Heroes series, we spoke with Gary Parker, DDS, an oral and maxillofacial surgeon who has dedicated his life to serving the poor in developing nations. As a surgeon and chief medical officer onboard the world's largest nongovernmental hospital ship, owned and operated by Mercy Ships, Dr. Parker has used his skills to transform many lives in complex cases not seen in the West.
Originally from West Los Angeles, Dr. Parker currently makes his home aboard the Africa Mercy with his wife Susan and two teenage children. The Africa Mercy has been docked since mid-August 2012 in the port of Conakry, Guinea, West Africa, and will remain until the summer of 2013.
Following his oral surgery residency at the University of California, Los Angeles, Dr. Parker spent five years working in the National Health Service in North Wales, U.K., before joining the first Mercy Ship for a six-month tour of duty in October 1986 in Mexico. Since then, Dr. Parker has continued on, providing services in more than 15 countries worldwide.
DrBicuspid.com: Why did you start volunteering aboard Mercy Ships?
Dr. Parker: Maybe it would seem obvious to others, but it only dawned on me slowly as I was doing my surgical training that I was being provided with tools that could be used in many different ways.
The idea of being able to use that training and ability to reach people who had no other choice really gripped my heart. It was a way of loving others, meeting them at their point of felt need, doing something they could understand in their experience even without words that they are being loved, that they are being valued. That struck a very deep chord in my heart, and it continues to strike that chord. It is what keeps me moving forward day by day here on the ship.
How many countries have you traveled to, and what are some of the common conditions you have treated?
Mercy Ships has operated in more than 70 nations around the world, with a current focus on the countries of West Africa. I've done surgery in Kenya and Belize, as well as onboard ship in the nations of Benin, the Dominican Republic, the Gambia, Ghana, Guinea, Ivory Coast, Jamaica, Liberia, Madagascar, Mexico, Senegal, Sierra Leone, South Africa, and Togo.
We are working in a part of the world where roughly 30% to 50% of the population do not have access to healthcare. Surgically, I treat children and adults suffering from congenital deformities in the head and neck region, such as cleft lip and/or palate; excise tumors; do reconstruction after destructive infections such as noma; repair burn damage; and other similar problems in the facial, head, and neck regions.
What motivates you to do this work?
Every day my work has real meaning in people's lives. And that's a great joy for me. Every day I am with patients who, all of their lives, have received the message that "you're rubbish, you make me uncomfortable, we don't want you around." After surgery, they see the light coming on that they have value. I won't ever get tired of seeing that.
Through Mercy Ships, I have found a wonderful opportunity to make true change for the better in the lives of many marginalized and rejected individuals in the nations of Africa. I realize we cannot help everyone, but I have the satisfaction of knowing for certain that the lives of those who have been able to receive surgery have truly been helped.
What are some of the most complicated cases that you have handled?
One of most complicated cases was of Edoh, a little girl with a large facial tumor. When Edoh was about 4 years old, her eye became very red and began to swell. Her mother tried to find help, going from hospital to hospital in Togo and Ghana, but no one could help her little girl.
By the time Edoh was 9, a massive facial tumor had displaced her left eye, distorted her cheek and mouth, and left her teeth protruding at odd angles from the edges of the mass. She struggled to eat and breathe. The tumor was literally stealing the breath of life from her -- she was slowly suffocating.
When a Mercy Ship arrived in her country, Edoh was brought to a screening. Other prospective patients even passed her to the front of the line as they could see that she was in critical condition. She received an appointment card for surgery to remove the tumor. The doctors warned her mother that this was a difficult, risky case. But she replied, "God gives children; God can take away. We will give it all to God and go ahead with the surgery."
And her faith was rewarded. Edoh returned home to a very surprised community. "It's a miracle!" they exclaimed. And they held a big party to celebrate. Edoh is now finishing her schooling and says she hopes to become a nurse.
What are some of the biggest challenges of providing care in these settings?
We're not talking about exotic surgery here, just basic care. When we say a lack of care, physically it's just not there, or financially it's way beyond people's ability to afford.
When we offer surgery, we are often providing a way to sustain life because people are going to die of the conditions that they have. Or what we provide allows them to move from being outcasts in their society back into their families/communities as a part of the human race.
The thought that some children have to grow up without even the most basic healthcare is so sad to me. It's shocking to think that something such as a benign tumor can cause death, that people would die because of it when it is totally preventable.
To me, everyone has the right to look human. To be marginalized, ostracized, excluded because of appearance is a tragic thing. If we can do something that allows them to re-enter human society, we should do so.
Can you talk about some patients whose cases touched you in particular or gave you a sense of fulfillment about what you do?
Every patient is special. I have observed over the years that the younger a patient is, the quicker their emotional response is to looking like everyone else. Even at that young age, they have already been negatively affected by rejection from those in their community.
"Every day my work has real meaning in people's lives."
— Gary Parker, DDS
The older the patient is, the longer that process takes. I have had some teenage patients who carry a little mirror around with them and throughout the day they keep looking at themselves because they are trying to change who they know themselves to be. So they have to keep looking at the mirror to remind themselves that they are no longer rubbish in people's eyes, that they actually are like everyone else, and then their emotions follow that.
For elderly people, we've had some patients who have lived with their deformity all their lives. Without exception, they say it's so nice just to be able to go to the market and not be stared at anymore, or not to be known as the person with this problem, but just to be like everyone else. It is a great delight even though they have spent their whole lives as an outsider.
The healing begins as people are accepted for who they are -- oftentimes before the surgery even begins, just being welcomed by the ship's crew, to have their hand shaken, to be welcomed into our community, and to have people look them in the eye and call them by name.
How can dentists interested in providing this kind of service become involved, and how much of a time commitment does it require?
Mercy Ships seeks to increase healthcare delivery throughout the world. Through the deployment of the Africa Mercy, Mercy Ships works with host nations to help fill the gaps in healthcare systems, while serving the dire and immediate needs of their population. Our volunteer professionals provide mentoring and training opportunities for medical professionals (surgeons, nurses, providers, administrators, and community health workers), along with a variety of surgical interventions.
The minimum would be a two-week commitment, but longer is preferred. Volunteers who are accepted pay for their flights to and from the ship in Africa, and pay a fee for room and board while on ship. Short-term dentists and dental assistants work with our longer-term dental team in a West African port to provide dental care at a land-based location near port. This is an off-ship position that requires the ability to work in hot and dusty environments.
Editor's note: To find out more, click the "Volunteer" tab at www.mercyships.org.