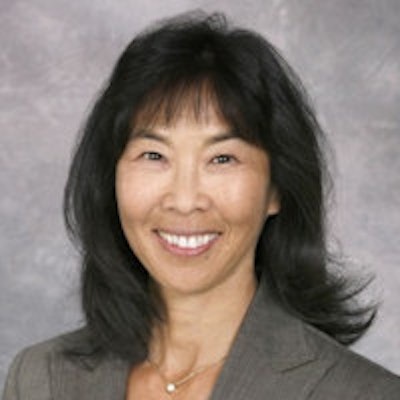 If you were told that half of your patients could lose 40% of their total bone mass, putting them at risk for losing teeth, you would no doubt do everything in your power to reverse these clinical changes.
As Joan Otomo-Corgel, DDS, MPH, president of the American Academy of Periodontology, points out, this can happen to half your patients: women. And the cause is menopause and its related effects.
"During perimenopause to menopause, women have the potential to lose 40% of their total bone mass," she told DrBicuspid.com. "They are also experiencing a huge swing in their hormones (estrogen levels), which are protective to the bone."
The bone loss women may experience in their spine and hips as a result of postmenopausal estrogen deficiency also occurs to the bone mass in the jaw, Dr. Otomo-Corgel said. This triggers a greater susceptibility to periodontal disease, loose teeth, and tooth loss.
"Dentists should be aware of whether a patient is undergoing menopause in order to more acutely monitor changes in the health of her gums and underlying bone tissue," she said.
At around age 40, about 10% of women may begin to have changes in length and flow of menstrual cycles or cease having a cycle entirely. About 80% of women begin skipping their cycle around age 50. This process, however, may happen from age 45 to 55, depending on the patient, Dr. Otomo-Corgel noted.
Dentists and oral health professionals can be on the leading edge of helping women to become aware of the effects of the different stages of menopause.
"[A patient's] mouth will reflect these changes faster than almost any other tissue in the body," she said.
While more is understood about the various stages of menopause, including peri- and postmenopause, it is important for dentists and oral health professionals to have this sometimes difficult conversation with their patients.
"Therapy needs to be altered depending on where your patient is in her cycle."
— Joan Otomo-Corgel, DDS, MPH
"Therapy needs to be altered depending on where your patient is in her cycle," Dr. Otomo-Corgel said. "Ask the patient if she has regular menstrual cycles. Patients with menstrual cycles have protective estrogen and progesterone, with progesterone elevated seven to 10 days prior to menstruation and increases in capillary permeability and alterations in normal serotonin, gabapentin, and endorphins/enkephalins, which means an increased sensitivity in tissues and psyche."
She suggested asking your patient how long she has been experiencing changes in her menstrual cycle and if she is or has been on hormone replacement therapy (HRT).
She also noted that if a patient has had a hysterectomy, that could also influence treatment. If a patient has had a hysterectomy, ask if it was a partial or full hysterectomy and if she was placed on estrogen replacement therapy (ERT) and, if so, for how long.
"Many women have had a hysterectomy at an early age, which makes them more susceptible to problems with low hormone levels, such as decreased bone mineral density and thinning of epithelial-derived tissues such as gingiva and hair," Dr. Otomo-Corgel said.
No matter who asks the questions, the effects of menopause on a woman's oral health highlight the importance of a comprehensive medical history conversation and a comprehensive periodontal examination with each patient.
"I like to think of clinicians as detectives," she said. "We need to ask the right questions to get the right answers."
Even beyond this screening tool, asking the right questions can help the practitioner develop a better treatment plan and alert the patient to normal health changes she may be unaware of. For instance, dentists should also ask patients about a family history or risk of osteoporosis.
"There are a number of risk factors that can contribute to a person's susceptibility to osteoporosis and bone loss; a dentist should consider those when speaking to his or her patient," Dr. Otomo-Corgel said. "For example, steroids, long-term medications for treating gastroesophageal reflux disease (proton pump inhibitors), blood thinners, antiseizure medication, and medications for cancer chemotherapy are some of the medications that have the potential to reduce bone density."
Dental x-rays can be used as a screening test for osteoporosis, as bone loss in the jaw can be an indicator of bone loss in other areas of the body, she noted.
"Osteoporosis is surely a major concern for women in this age group," Dr. Otomo-Corgel said. "Another concern is a condition known as menopausal gingivostomatitis, a condition in which the gums are dry, shiny, and prone to bleeding easily. Menopausal women may also experience funny tastes and abnormal sensations in their mouths."
She also cited research that has indicated that postmenopausal women with osteoporosis will need new dentures more often than women older than 50 who do not have osteoporosis.
"Changes in a woman's bone density may cause previously well-suited dentures to fit poorly," she said. "Patients with osteoporosis lose more maxillary teeth and have more severe alveolar ridge atrophy."
Clinical research indicates that women with osteoporosis, which affects postmenopausal women, are more likely to have periodontal disease than women with normal bone density, according to Dr. Otomo-Corgel.
"If a dentist is aware of the condition of someone who has brittle bones, measures can be taken to diagnose periodontal disease once it appears and to address it before it becomes aggressive," she said.
Dr. Otomo-Corgel also recommended asking about your patient's diet and supplements.
"Also ask if the patient is taking supplements, such as multivitamins, calcium, [and] vitamin D3, as well as about her diet," she said. "If the patient has been diagnosed with osteoporosis, the clinician should ask, 'What is the medical intervention?' Bisphosphonates, denosumab, and teriparatide are common medications for threating osteoporosis that may alter the patient's oral health treatment."
Dr. Otomo-Corgel concluded by stating that the link between osteoporosis and periodontal disease is a significant discovery, but more research should be performed into the link between hormonal and physical changes in women and the onset and progression of periodontal disease.