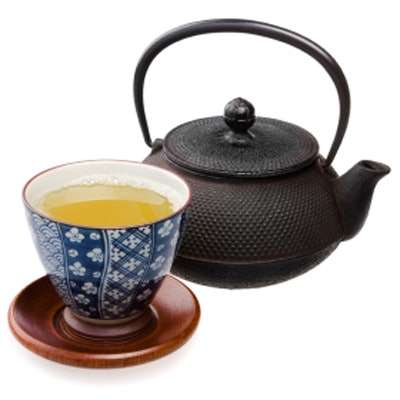 Green tea-based mouthwashes may rival chlorhexidine for some patients, a systematic review found. Patients with plaque-induced gingivitis who used a green tea-based mouthwash had plaque and gingival markers that were similar to those of patients who used chlorhexidine.
Researchers scoured the internet and scientific databases for reviews comparing green tea-based mouthwashes with chlorhexidine or a placebo. When they noticed a lack of information on the topic, they conducted their own review and meta-analysis, which was published in the Indian Journal of Dental Research (April 10, 2018, Vol. 29:2, pp. 225-232).
"There is a paucity in the availability of critically appraised summaries on the efficacy of green tea mouthwash for promotion of dental hygiene," wrote the authors, led by Ankita Mathur, BDS, from the department of periodontology at the Dr. D. Y. Patil Dental College and Hospital in Pune, India. "This study was, therefore, aimed to gather and evaluate in a systematic manner available data on the efficacy of green tea-based mouthwashes on dental plaque and gingival inflammation indices, as compared to other mouthwashes in plaque-induced gingivitis individuals."
Chlorhexidine vs. green tea
Chlorhexidine is often considered the gold standard of mouthwashes; however, the antiplaque agent has several drawbacks, including staining teeth and temporarily altering taste. The researchers were, therefore, curious whether green tea, which has natural antibacterial and anti-inflammatory properties, could be a reasonable alternative to chlorhexidine.
"There was no significant evidence of any adverse event with green tea mouthwash."
— Ankita Mathur, BDS, and colleagues
Two reviewers screened scientific databases for randomized controlled clinical trials comparing green tea-based mouthwashes with either a placebo or chlorhexidine. They ultimately included seven studies with 292 patients who were either healthy or had gingivitis. The primary outcomes measured were gingival index and plaque index.
Five of the seven studies specifically compared green tea-based mouthwashes with chlorhexidine, and the results were mixed. Three studies found that chlorhexidine was more effective at improving the two indexes, while two of the studies favored green tea-based mouthwash. The findings suggest that green tea-based mouthwashes may be a suitable alternative to chlorhexidine, the study authors noted.
"We demonstrated that green tea-based mouthwashes were not significantly different as compared to the standard chemical-based CHX [chlorhexidine] mouthwashes in reducing plaque and gingival inflammation," they wrote. "Of particular interest, there was no significant evidence of any adverse event with green tea mouthwash."
However, it is also important to note that the remaining two studies compared green tea-based mouthwash with a placebo. Both of those studies favored the placebo, but no explanations were given in the paper as to why that could be.
Benefits outweigh uncertainty?
The authors noted several shortcomings to the review. Notably, they only searched for scientific articles published in English, so they could have missed relevant studies published in other languages.
In addition, all the included studies had low or unclear risk of biases related to selection, performance, determination, attrition, and reporting. However, one of the studies in favor of green tea had a high risk for "other" bias. Nevertheless, the researchers felt confident that green tea-based mouthwashes can be an alternative for patients with plaque-induced gingivitis.
"Green tea-based mouthwashes can be considered an alternative to CHX mouthwashes in sustaining oral hygiene, especially because of the added advantages provided by such herbal preparations," the authors concluded.