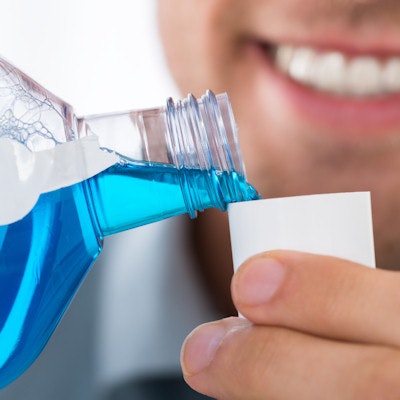 Using chlorhexidine mouthwash, which many dentists have adopted as a prerinse prior to dental work as a precaution against COVID-19, increases saliva's acidity and makes teeth more vulnerable to damage, according to a study published on March 24 in Scientific Reports.
Using chlorhexidine mouthwash for just seven days changes the oral microbiome, the researchers found. It significantly increases the number of lactate-producing bacteria, which lowers the pH level of saliva and creates a favorable environment for increased dental caries and other oral health diseases.
"Our results showing lower saliva pH after using [chlorhexidine mouthwash] are relevant, since decreased pH in saliva is associated with demineralization of tooth enamel and risk of caries, tooth loss, and other dental problems," wrote the authors, led by Raul Bescos, PhD, of the University of Plymouth's Institute of Health and Community in the U.K.
Acidic saliva equals trouble
Chlorhexidine mouthwash is widely available and used by healthy patients to kill mouth germs. Despite its widespread use, it is unknown whether it promotes a healthy oral microbiome or causes a shift to a microbiome that is associated with disease. Eating and drinking alter acidity levels, and one role of saliva is to maintain a neutral pH in the mouth. When the pH level drops dramatically, damage to the teeth, the tissue surrounding the teeth, and the inside of the mouth can occur. This study aimed to investigate the effects of chlorhexidine on healthy individuals' oral microbiomes and several saliva markers, such as pH, buffering capacity, and lactate and glucose levels.
Two times per day for seven days, 36 healthy subjects rinsed with a placebo mouthwash. They followed the same protocol using chlorhexidine mouthwash. The amounts and diversity of bacteria in the oral microbiome were analyzed, and the saliva's pH, its ability to neutralize acids in the mouth, and concentrations of lactate, glucose, nitrate, and nitrite were measured after the first week. Blood and saliva samples were analyzed, according to the authors.
After the use of chlorhexidine mouthwash, a greater number of species of Firmicutes and Proteobacteria were found. The subjects' oral microbiomes also had fewer Bacteroidetes, TM7, and Fusobacteria. These changes were linked to an increase in acidity, seen with lower salivary pH and buffering capacity.
The study was not without limitations; for example, oral health status was assessed using medical questionnaires. It could be more useful to conduct full oral and dental exams to get more detail about the concurrent effect of chlorhexidine mouthwash on markers of periodontal health, the authors wrote.
More information needed
Also, though chlorhexidine was found to reduce microbial diversity overall in the mouth, more research is needed to determine if this reduction itself increases the risk of oral disease. These findings add to the growing body of evidence that the applications of chlorhexidine mouthwash should be more carefully considered.
This is especially important during the current COVID-19 pandemic, said Zoe Brookes, BDS, PhD, of the University of Plymouth's Peninsula Dental School, in a press release issued by the school.
"In the face of the recent COVID-19 outbreak many dentists are now using chlorhexidine as a prerinse before doing dental procedures," Dr. Brookes said. "We urgently need more information on how it works on viruses."