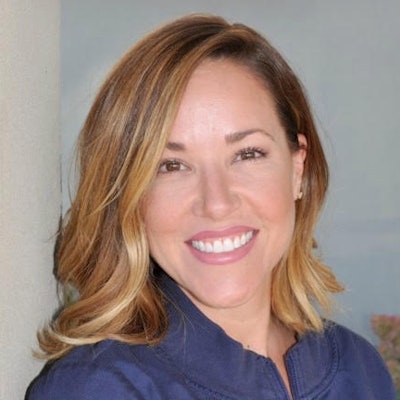 Editor's note: This is the first piece in a continuing series where we will be asking dental hygienists from across the country, at different stages of their careers, what they believe the future of dental hygiene holds.
Kristy James, RDH, graduated from dental hygiene school in 2003 and immediately began working as a dental hygienist in a small town in Washington state. She has been working as a hygienist for 17 years and using dental lasers for the past 12. In 2012, she also began working part time for Biolase, traveling across the country to share her knowledge of dental lasers with other hygienists.
James attained an associate fellowship from the World Clinical Laser Institute and, in 2014, was given the award for Outstanding Contributions in Advancing Dentistry through Laser and Imaging Technologies. Since she began working for Biolase, peers and colleagues have valued her charismatic and relatable approach. Her passion and commitment to excellence compel her to continue to share her enthusiasm and knowledge.
We recently spoke with James about her experience as a dental hygienist, as well as explored her thoughts about where the future of dental hygiene is heading.
Q: What attracted you to becoming a registered dental hygienist?
A: Since I was a small child, I've loved dentistry. I always had great experiences at the dentist, and, initially, I thought that I would be a dentist. However, once I began schooling, I decided that I wanted to become an RDH because of the flexibility this role offered, as well as the patient relationships you are able to build.
Q: What advice would you give to those just starting their careers as RDHs?
A: I would tell young dental hygienists to be open to all that the dental industry can offer. Not just what it can offer patients, but also what it can offer you as a hygienist as well. Keep an open mind and enjoy it. I have always enjoyed being a hygienist for my 17 years in the industry, and the open perspective has helped me a lot in the field. This approach has allowed me to teach, speak, travel, and work hands-on with dentists and hygienists.
Q: What are some of the biggest changes to the RDH profession that you have seen throughout your career?
A: Some of the biggest changes I have seen throughout my career have to do with technology in the dental hygiene field. There are so many different tools that can now supplement what we do. Digital imaging was a huge change in the field. I remember having to use film and now we can get a 3D image of their entire mouth. Thanks to the new technology, we can offer our patients a variety of new things.
Another change along with the technology is that patients have begun actively seeking out the most advanced dental practices. When they choose a practice, they are looking for high-level technology.
Q: What are some of the biggest challenges you have faced?
A: Technology has probably been one of the biggest challenges. It has been a blessing, but also a challenge. When you add new technology to a practice, you have to get the whole team on board. Whenever you implement a new system, such as an advanced billing system, it comes with challenges and learning curves. There are always new systems and technologies to learn about and train to use, so the constantly evolving technology has been a challenge, even as it advances the industry.
Q: What are some of the biggest current trends in dental hygiene?
A: One of the biggest trends currently is dental lasers. Laser technology isn't a new trend, but in terms of dental hygiene, it is spreading and rapidly becoming the new standard of care. That is one of the reasons I think it is so important for hygienists to continue receiving continuing education and learning about new technology and new procedures. There are so many advanced procedures that lasers allow us to perform, from periodontal debridement to reducing bacteria for all patients.
Another trend we are seeing is the method we communicate with our patients. Thanks to current technology and innovations, we are able to communicate more frequently with patients and share more information without them having to come into the practice. We are able to send them their x-rays, scans, and other diagnostic information. It is my belief that this trend will continue to grow and will open up more lines of communication between patients and their dental team.
Q: How do you see the industry changing in the next 10 years?
A: As far as dental hygiene is concerned, technology will continue to expand. Telehealth is also becoming more mainstream, along with mobile dentistry. The traditional practice of dental hygiene will shift, along with the rest of healthcare, to become more accessible. This will either be through virtual means or transitioning to a more online approach. While patients will still need to come into the practice for certain procedures, I believe that a lot more of our work as hygienists will be done remotely from our patients.
I also think that physical technology such as dental lasers will become more common in practice. My experiences have shown me that many hygienists are beginning to ease into laser use, but they are unsure how to get started. There are currently amazing lasers and other hard-tissue lasers on the market that can treat patients on a larger scale. The technology already out there is fantastic, but I am sure we will watch it continue to expand, specifically in the hygiene industry. One recent example is the Epic Hygiene laser, which was created by hygienists for hygienists. Personally, I love that it takes a lot of the guesswork out of dental laser use because it is so specialized and specific to hygienists, making it very easy to use.
Q: Do you think there are any misconceptions about the dental hygiene industry?
A: The greatest misconception about hygienists is that we just clean teeth. There are a multitude of responsibilities that we as dental hygienists and providers have. As a hygienist, I am writing narratives to allow for insurance coverage and reviewing complex treatment plan options and procedures, as well as placing fillings, giving anesthetic, providing a listening ear, and more on a day-to-day basis.
Q: If you could change one thing about the dental hygiene industry, what would it be?
A: I would like to see more freedom within the industry for hygienists. For example, I think that heavier co-diagnosis between dentists and hygienists should be allowed. We spend so much time with patients and develop extremely strong relationships. We see so many different cases that we could help co-diagnose more clearly within the scope of our practice.
Q: What do you think the future of dental hygiene will look like?
A: I believe the future of dental hygiene has us in the role of a midlevel practitioner. We act as nurse practitioners of the dental world. I believe that as dental hygienists are granted more freedom in dental practices, we will take on more and more of the practitioner responsibilities -- especially as dental technology continues to evolve, as it will allow us to perform a greater number of procedures and assist both our patients and dentists in more ways.
Dental technology will also continue to evolve, and I predict that technology will be a greater part of the day-to-day life for dental hygienists. I also specifically see lasers at the forefront of technology in the dental hygiene field. They are becoming the standard of care! As a laser hygienist for more than 12 years, I am very excited to see this concept sweeping the nation. I predict it won't be long until every hygienist in every office has a laser by his or her side.
The comments and observations expressed herein do not necessarily reflect the opinions of DrBicuspid.com, nor should they be construed as an endorsement or admonishment of any particular idea, vendor, or organization.