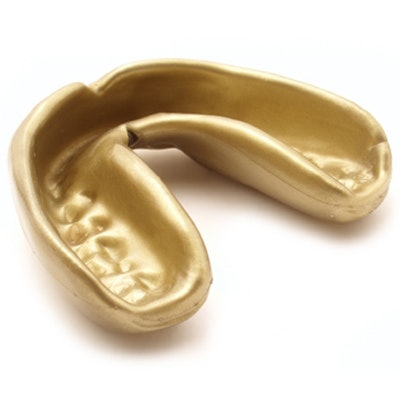 A wearable, fluorescent mouthguard can detect early signs of tooth decay and periodontitis by ferreting out the secretions of volatile sulfur compounds (VSCs) in the oral cavity, according to a recent study published online in Advanced Materials.
With the help of imaging, the zinc oxide-poly(dimethylsiloxane) (ZnO-PDMS) nanocomposite device was able to highlight the locations of hidden dental lesions, according to the authors.
"The mouthguards successfully uncover the precise locations of dental caries, allowing convenient screening of hidden dental lesion sites that are oftentimes omitted by dentists," wrote the group, led by Xuemeng Li, PhD, of Key Laboratory of Sensing Technology and Biomedical Instruments of Guangdong Province at the School of Biomedical Engineering at Sun Yat-Sen University in Guangzhou, China (Adv Mater, April 2, 2020).
Worldwide, the incidence and prevalence of dental caries and periodontitis are high, affecting about 2.4 billion people. Without prompt treatment, patients may experience permanent damage to teeth and gums or tooth loss, leading to expensive restorations and treatments. Early diagnosis of and screening for these dental diseases, specifically hidden dental lesions, will significantly reduce the risk of further symptoms and reduce potential tooth loss.
Unfortunately, dental lesion detection methods cannot localize volatile sulfur compounds to a specific place in the mouth. Such methods also often involve portable gas chromatography, which is highly sensitive in detecting VSCs but requires large, expensive equipment.
In the study, three volunteers with healthy teeth and gums and five others with varying degrees of dental diseases wore the mouthguards for seven hours to assess their effectiveness. After each hour, 3D images of the mouthguards worn on the volunteers were taken.
After the seven-hour window, the mouthguard had stopped brightly glowing around sites where VSCs had been released. The five volunteers with oral health conditions showed varying degrees of obvious decreases in fluorescence intensities, which indicated areas with dental lesions.
The detection and analysis results accurately showed the sites of dental caries and other hidden dental lesion sites that were difficult to locate without very careful, time-consuming examinations, the authors wrote.
Despite the mouthguard's potential, certain conditions may affect the device's capabilities, the group noted. For instance, volatile compounds released from a patient's breath into the mouth may influence the device. This would likely result in a fluorescence decrease across the entire mouthguard, rather than at any specific tooth position.
Nevertheless, the mouthguards are inexpensive and stable and were well-tolerated by patients, making them suitable for large-scale production, as well as important screening tools, the authors wrote.
"Our wearable ZnO-PDMS mouthguards hold the promise to carry out large-scale preliminary yet accurate screening of potential dental diseases before more time-consuming and expensive hospital examinations," they wrote.