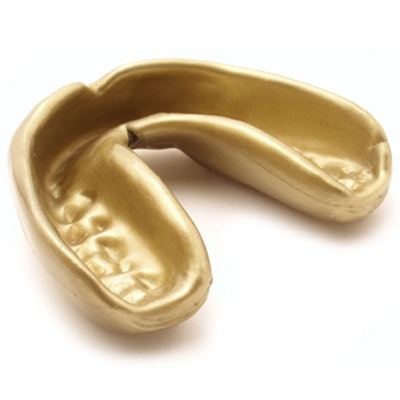 April 1 marks the start of National Facial Protection Month, which can be the perfect time to talk with patients and families about mouthguards and other tools to protect against sports injuries. Dr. Louis Rafetto, an oral surgeon and spokesperson for the American Association of Oral and Maxillofacial Surgeons (AAOMS), spoke with DrBicuspid.com about the occasion.
"The goal is to promote the use of protective gear, such as mouthguards and helmets, and to prevent dental and facial injuries that result from sports or other recreational activities," Rafetto said in a video interview.
National Facial Protection Month is a collaboration between six major health organizations, including the AAOMS, and it comes just in time for spring sports to ramp up. The intent is to provide a platform for the organization's members to reach out to their communities and encourage the use of effective facial protection gear, including mouthguards and helmets.
"I've seen the firsthand impact that facial trauma can have on people of all ages," Rafetto said. "We tend to think of it being kids, but it's really kids and adults as well."
Mouthguards protect teeth and gums and can also provide cushioning to prevent some jaw fractures, Rafetto noted. In fact, athletes are 60 times more likely to experience harm to their teeth if they are not wearing a mouthguard, yet two-thirds of parents admit that their child does not wear a mouthguard during organized sports.
"Given that information, we as dentists are responsible to not only fix problems related to the injuries but to prevent them," Rafetto said.
Dental injuries can also be costly and come with long-lasting implications. One study cited by Rafetto found the U.S. spends $500 million replacing and repairing 5 million teeth knocked out from sports and other recreational activities every year.
For the patient, the overall cost is also significant. A knocked-out tooth may eventually need a root canal, crown or restoration, or even to be replaced by an implant, Rafetto noted.
"It's not just a one-time kind of injury," he said.
While there are different types of mouthguards, Rafetto advised using ones that are strong, able to absorb a blow, and easy to clean. He also pointed to the AAOMS website as a source of pamphlets and additional information to share with your patients in the office or through email.
Watch the video below to hear more advice as well as three common mouthguard myths he hears from patients.