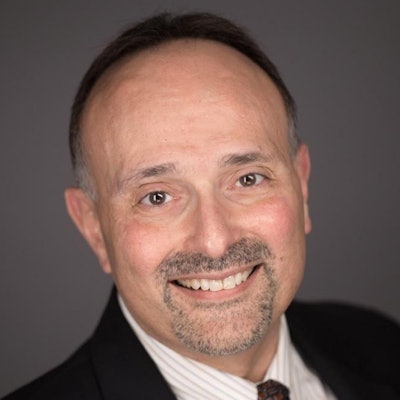 A recent study published in Cancer Prevention Research indicates that periodontal disease is associated with an increased risk of colorectal cancer. Previous studies have pointed to associations between periodontal disease and other types of cancer.
In the new study, lead author Chun-Han Lo, MD, and colleagues prospectively collected information on periodontal disease and tooth loss in participants in the Nurses' Health Study (1992-2002) and the Health Professionals Follow-up Study (1992-2010) (Cancer Prev Res, August 2020, Vol. 13:8, pp. 699-706). They then reviewed pathology reports from colonoscopies to establish the incidence of two types of colorectal neoplasms that often develop into colon cancer: serrated polyps and conventional adenomas. Removal of these lesions is associated with a reduced risk of colon cancer.
This study included 42,486 participants (17,904 women and 24,582 men). Over the past several decades, the participants periodically reported information on gingivitis and tooth loss. The researchers examined data on 84,714 person-endoscopies and documented 2,336 cases of serrated polyps and 4,102 cases of conventional adenomas.
Compared with people with no history of periodontal disease, those who had periodontal disease had a 17% increased relative risk of having a serrated polyp and an 11% increased risk of a conventional adenoma.
Interestingly, the researchers found that the loss of four or more teeth was associated with a 20% increased risk for having a serrated polyp. Also, among participants with periodontal disease, the researchers discovered that the more teeth a person had lost, the higher the risk of advanced conventional adenomas.
For example, those who had periodontal disease and had lost one to three teeth had a 28% higher chance of developing advanced conventional adenomas, while those who had periodontal disease and had lost four or more teeth had a 36% higher chance.
The researchers indicated that the study sample was controlled for other known risk factors for colon cancer, including body mass index and level of physical activity. While smoking is a known cause of both periodontal disease and colorectal cancer, even nonsmokers with tooth loss had higher rates of serrated polyps and conventional adenomas, they noted.
The study's limitations included the self-reporting of gingivitis and tooth loss and the fact that most of the respondents were white, which may limit the validity of the results in more diverse populations, according to the researchers.
However, they concluded that the results of this study reinforce the importance of good oral health to ensure a healthy oral microbiome.
"Our findings advance our understanding of the interplay between oral health, microbiome, and early colorectal carcinogenesis," they wrote.
I sat down with DrBicuspid.com Editor-in-Chief Kevin Henry to talk more about this study and the timing of it with the death of movie star Chadwick Boseman from colon cancer. Is now a good time to bring up this study with your patients, with Boseman's recent passing in their thoughts? Listen below as we talk about that and more.
Tom Viola, RPh, is a clinical educator, professional speaker, and published author in the areas of oral pharmacology and local anesthesia. For more information on this and other pharmacology topics, as well as a list of dates and locations where you can attend his latest seminars, visit his website at www.tomviola.com.
The comments and observations expressed herein do not necessarily reflect the opinions of DrBicuspid.com, nor should they be construed as an endorsement or admonishment of any particular idea, vendor, or organization.