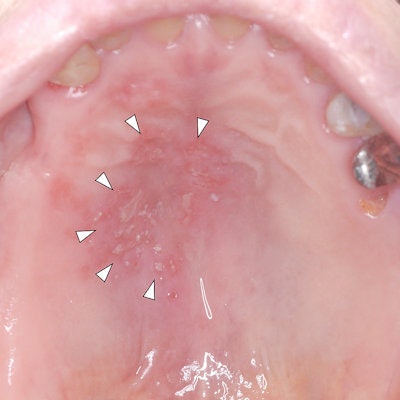 The Pfizer-BioNTech BNT162b2 COVID-19 vaccine may be linked to the development of the viral infection herpes zoster (HZ), or shingles, in the oral cavity, according to a case report published November 10 in the Cureus Journal of Medical Science.
A few weeks after receiving the vaccine, a handful of patients developed HZ, which is caused by the reactivation of the varicella zoster virus from its latent state in the trigeminal ganglia and spinal dorsal root ganglia. Dentists should be aware of the virus, which may be missed or misdiagnosed as an inflamed or sore mouth or isolated oral herpes, the authors wrote.
"Thus, oral HZ needs to be given more attention during intraoral examinations, especially by dentists treating patients with a history of COVID-19 vaccination," wrote the group, led by Dr. Joe Iwanaga, PhD, from the Tulane Center for Clinical Neurosciences at Tulane University School of Medicine in New Orleans.
In the U.S., the incidence of HZ infection has been on the rise for decades. Between 1945 and 1949, 0.76 per 1,000 people in the U.S. had HZ infections. Between 2000 and 2007, 3.15 per 1,000 people had infections. COVID-19 infection and vaccination can trigger more oral HZ infections, according to the authors.
Recently, an unrelated study suggested that SARS-CoV-2 is strongly associated with reactivation of the varicella zoster virus. However, the means of reactivation remains unclear. Also, there have been a few reports of COVID-19 vaccines reactivating varicella zoster virus. In these cases, most have developed skin reactions on body parts rather than in the oral cavity after receiving COVID-19 vaccines, Iwanaga and colleagues wrote.
Furthermore, this isn't the first time that COVID-19 vaccines have been linked to orofacial side effects. In February, a report showed that Pfizer's vaccine and the Moderna mRNA-1273 vaccine have been linked to orofacial adverse drug reactions, such as temporary facial paralysis.
In May 2021, people in Japan began receiving the Pfizer-BioNTech COVID-19 vaccine. By October 2021, five patients, four of whom were women, had visited a dental practice of two of the authors for multiple unilateral vesicles and ulcers.
The patients were between the ages of 59 and 79, and they had received either their first or second doses of the vaccine within one to three weeks prior to visiting the dentist. Four of the patients had lesions on their palates, and one person had lesions on the mandible, the authors wrote.
Based on the clinical findings of unilateral acute rash for fewer than seven days with or without pain, all patients were diagnosed with oral HZ. Of the patients, only one was treated with an antiviral drug. The patient who received treatment also had a skin reaction on her ear and orbit, they wrote.
As more people become vaccinated for COVID-19, additional cases of COVID-19 vaccine-related HZ infections are expected to be reported. The researchers hope these cases result in more studies.
For this case report, the patients' previous history of HZ, varicella, or varicella zoster virus vaccination was not known. However, past evidence has shown that patients who have been inoculated for varicella zoster have still been diagnosed with COVID-19-related HZ, the authors wrote.
"Therefore, any patient who has had COVID-19 vaccinations can be affected by oral HZ," Iwanaga and colleagues concluded.