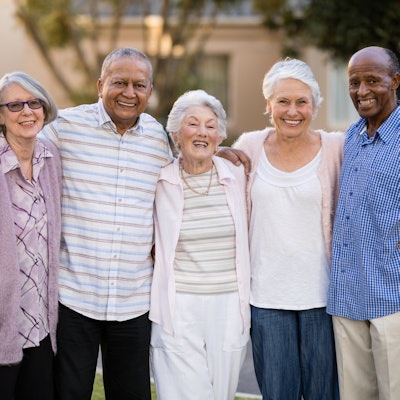 Older adults are more susceptible to chronic oral health concerns, including caries, periodontal disease, and halitosis. Researchers evaluated the prevalence of halitosis and associated factors among older adults in a new study published May 25 in the Journal of Oral Biology and Craniofacial Research.
The aging population will be a challenge to health systems, including aspects related to oral health. One of those factors is bad breath, which affects millions of people worldwide. Although many oral hygiene products can improve bad breath or mask it, these resources do not address the root problem.
"Halitosis is considered a serious health problem, as alterations in breath odor may lead to a great social impact, causing personal discomfort and social embarrassment," wrote the authors, led by Laura Barreto Moreno of the Federal University of Pelotas in Brazil.
The two main causes of halitosis are tongue coating and periodontal diseases. Previous research has indicated that patients with gingivitis or periodontitis have a greater chance of having halitosis than those with good periodontal health. In addition, age can affect the ability of an individual to perform proper oral hygiene, including the removal of tongue coating.
Researchers evaluated the prevalence of self-reported halitosis and associated factors among older adults. Individuals over the age of 60 were included as participants. Sociodemographic factors, presence of other health problems, use of medication, smoking and alcohol exposure, access to dental care, toothbrush frequency, use of dental floss, number of present teeth, and the need for dental prostheses were considered.
About 570 participants were included in this study. Nearly 36% of participants self-reported halitosis, demonstrating the high prevalence of this condition among the elderly.
A total of 85% of participants reported health issues and the continuous use of medication. There was no significant association between self-reported halitosis and these variables. However, several medications can cause the reduction of saliva flow, which is often associated with halitosis.
It is important to highlight that halitosis was measured by self-perception within this study. However, self-perception is currently considered a true outcome, referred to as patient-reported outcome measurements.
Self-perception as a primary measurement is a potential limitation of this study, as self-perception may not reflect reality as measured clinically or by the perceptions of those who have close relationships with the person. Still, quality of life is often affected when the individual is aware of the issue, and the validity of this study is considerable.
Factors contributing to halitosis
Many factors may be associated with halitosis in older adults, including oral health conditions, the presence of other health issues, the use of medication, hyposalivation, and sociodemographic and behavioral factors. It can be hypothesized that physiological, behavioral, and health impairments of older adults make them more susceptible to developing halitosis.
Findings in the study indicated an association between higher levels of education and lower self-reported halitosis. Education level is one of the most important factors associated with oral health, since it is associated with greater knowledge and better oral hygiene practices, the authors noted.
Similarly, those with no access to dental care were more likely to self-report halitosis. Individuals with higher levels of education tend to visit dentists more frequently; therefore, they have a lower prevalence of oral health concerns.
Another factor associated with halitosis was the number of teeth present. Since halitosis can have both oral and nonoral origins, it can be presumed that some causes are dependent upon the presence of teeth in the mouth. This study did not account for dental caries or periodontal diseases, which is a limitation.
The study authors concluded that older adults are more likely to self-report halitosis. This condition is associated with lower age and lower level of education, no access to dental care, and higher number of present teeth.
"The evaluation of halitosis is important due to the high prevalence of this condition, including its consequences, strong social restrictions, impact on quality of life, and possible association with systemic diseases," the study authors wrote.