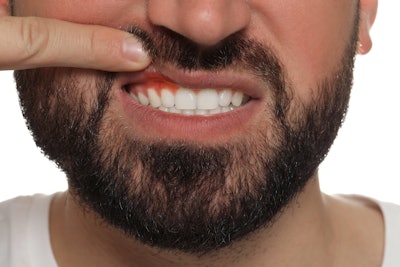 Quercetin, a plant flavonoid found in apples, dark berries, and red wine, alleviated cigarette smoke-induced periodontitis, according to an animal study published on August 3 in the Journal of Periodontal Research.
By reinstating autophagy levels and lowering reactive oxygen species accumulation, quercetin effectively restored and impaired osteogenic differentiation of human periodontal ligament cells (hPDLCs) and relieved bone resorption after exposure to cigarette smoke, the authors wrote.
"Our results suggested that autophagic dysfunction and oxidative stress damage are substantial mechanisms in the development of cigarette smoke-related periodontitis (CSRP) and demonstrated quercetin as a promising approach for future prevention and treatment of CSRP," wrote the authors, led by Dr. Sheng Yang, of the Stomatological Hospital of Chongqing Medical University in China.
Recently, a human transcriptome-wide association study revealed that smoking was strongly linked to bone mineral density. It also showed that the MAP1LC3B gene, a biomarker in autophagy which mediates the degradation of cellular components, including damaged organelles and invading germs, is significantly important for bone mineral density and smoking. Therefore, the authors of this study surmised that cigarette smoke may exacerbate smoking-related periodontitis by inducing reactive oxygen species accumulation, disrupting autophagy, and inhibiting osteogenic differentiation of periodontal cells.
Quercetin, which is known to have antioxidant and anti-inflammatory benefits, can be found in numerous foods, including parsley, apples, and onions. Previous studies have shown that the plant flavonoid can shield osteoblasts from oxidative damage, relieving the toxic effects of bone exposed to cigarette smoking. Additionally, past research has shown that quercetin can stop hydrogen peroxide-induced injury of human periodontal ligament cells and ligature-induced alveolar bone resorption of mice. For these reasons, the authors wondered whether quercetin could have a great impact in reducing cigarette-related gum disease, according to the study.
To evaluate quercetin's effect on smoking-related periodontitis, human periodontal ligament cells were exposed to cigarette smoke extract, which was created by inhaling smoke from a cigarette into a syringe and prepared in the lab to establish a cell model. This model was used to test the therapeutic effects of quercetin on oxidative stress and osteogenic differentiation. Additionally, a cigarette smoke-related ligature-induced periodontitis mouse model was created and analyzed for the therapeutic effects of quercetin.
After the mouse model was exposed to cigarette smoke, alveolar bone resorption was exacerbated, and the osteogenic differentiation potential of human periodontal ligament cells was inhibited. Quercetin effectively shielded the osteogenic differentiation of human periodontal ligament cells (hPDLCs) and periodontal tissue by upregulating the expression of Beclin-1, which plays a vital role in autophagy and cell death, the authors wrote.
In addition to increasing the expression of Beclin-1, quercetin treatment decreased the accumulation of p62, a protein that targets other proteins that attach to it for selective autophagy, they wrote.
However, the study was not without limitations. Although quercetin showed good therapeutic effects, its lower water solubility, low bioavailability, and inactive metabolites need to be better optimized in the treatment of periodontitis caused by cigarette smoking, Yang and colleagues wrote.
"[Nevertheless,] quercetin provides a natural candidate for the prevention and treatment of CSRP by promoting the autophagy of hPDLCs, reducing oxidative stress damage, and restoring osteogenic differentiation potential," the authors wrote.