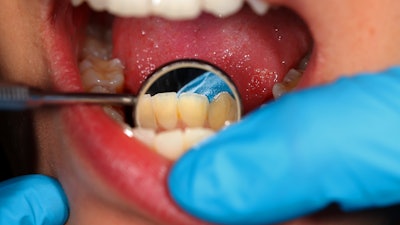 The University of Birmingham in the U.K. and Sigrid Therapeutics announced a new project to explore technology designed to limit oral bacteria's access to sugars and their ability to form the dental biofilm that causes periodontal disease.
Professor Iain Chapple and his research group at the university's school of dentistry will work with Sigrid Therapeutics to identify and develop further applications for the technology (SiPore), according to a news release from the university.
SiPore is composed of micron-sized silica particles, which are a form of synthetic amorphous silica widely used in food and cosmetics. These silica particles can be added to toothpastes, mouth rinses, and other products.
Chapple is a world-leading oral health expert whose research concentrates on the link between oral health and noncommunicable diseases such as diabetes, the school noted. The physical rather than the chemical mode of action of SiPore, as well as its flexibility and broad functionality, could significantly impact the oral and gut microbiome positively, Chapple said.
"Taken together, the arguments for significant health benefits are compelling, and there is some exciting science to be done," Chapple added.