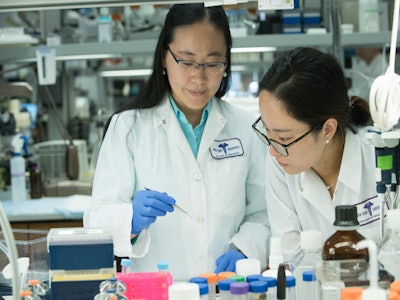 A gum disease-fighting topical gel developed by scientists at the New York University (NYU) College of Dentistry has won STAT Madness 2023, a virtual science and medicine tournament.
The study beat out 63 other studies from the U.S. in a March Madness-inspired competition. It is the first time that research from a dental school has won the competition.
The NYU team's gel works by blocking a receptor for a metabolic byproduct called succinate, which suppresses inflammation and, as a result, changes the makeup of bacteria in the mouth and prevents bone loss.
The research behind the gel, which was conducted in mice and also used human cells and plaque samples, was published in September 2022 and lays the groundwork for a convenient, targeted treatment. The team continues to study the gel in animal models to find the appropriate dosage, the timing for application, as well as any toxicity. Their long-term goal is to develop a gel and oral strip that can be used at home by people with or at risk for gum disease. In addition, the scientists are developing a stronger formulation that dentists can apply to pockets that form in the gums during periodontal disease.
STAT News chose the 64 studies for the competition based on originality, the scientific rigor of the research conducted, and its potential impact on patients and society. This year, more than 145,000 votes were cast by the public.