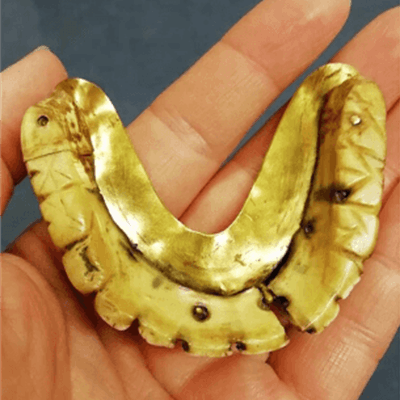 False teeth crafted of hippo or walrus ivory, set in gold, and estimated to be from the early 1800s will be up for auction in November. The teeth are valued at about $9,000, according to Hansons Auctioneers and Valuers.
Peter Cross and Diana Wild found the teeth in March 2019 in a field in Buckinghamshire, U.K. while using metal detectors. The false teeth will be auctioned on November 25 at a Historica and Metal Detecting Finds Auction at Hansons in Derbyshire. Once they are sold, Cross and Wild will each get 25% of the proceeds, and the landowner will get the rest.
Dental experts have said the teeth date back to between 1800 and 1850 and would have cost a pretty penny, about $385, back then. They also called the teeth incredibly advanced, noting that the gold base would have been made by hand on a plastic model of the owner's upper jaw.
The outer part of the dentures is made of walrus or hippo ivory and would have been carved by hand, according to Mark Becher, a metal detector finds consultant at Hansons.
"The curve of the tusk cleverly fitted the shape of the mouth," Becher stated in a company news story. "The front six teeth have retained the enamel of the tusk to give the effect of the surface of a tooth -- though I doubt they'll be in a Colgate advert anytime soon."
Also, they have incised lines and cross hatchings to give the illusion of real back molars. A spring attached to a circular rivet on the side of the dentures indicates the teeth likely were attached to lower dentures. Cross searched but has had no luck finding the bottoms.
The big question is who may have owned the teeth.
Cross has done significant research, consulting with the British Dental Association and the British Museum, to find out more about the teeth.
Cross believes a wealthy former resident of the area may have dropped the set of teeth, which is inscribed with the initials "WSF" and "N 435," while riding a horse. He surmises that the person probably had the teeth in a pocket since in the 1800s people mostly only wore their false teeth when they were eating.
"Everyone has a claim to fame and I'd like to think this is mine," Cross said.