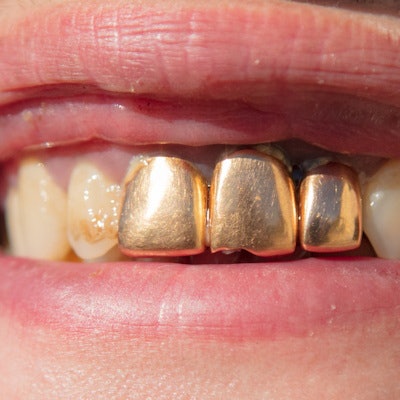 A dental grill purchased at a flea market in Texas caused severe tooth decay and rot for a woman who wore the decorative cover cemented on her front teeth for a year, according to a news report published January 24 by KZTV 10.
The woman, who was not identified, said wearing the grill has led her to spend a significant amount of money to fix her teeth, which essentially disintegrated.
The woman claims she bought the grill at a flea market in Corpus Christi and paid about $1,000 to have it cemented on her front teeth. She had the dental cover affixed to her teeth, assuming it was made of gold. Unfortunately, it was made of a nonprecious metal, a material that can cause many to have allergic reactions.
After wearing the decorative tooth cover for about a year, she noticed a bad odor coming from her mouth. She brushed, flossed, and used mouthwash, but nothing got rid of the smell.
She made a dental appointment, and that's when she learned that food that became trapped behind the grill led to a buildup of bacteria. The dentist told her that the bacteria produced acid, which decayed her teeth and gums. When her dentist removed the grill, no teeth were visible.
The dentist had to pull the pieces of the woman's remaining teeth and insert a bridge to replace the missing teeth.
It is unclear whether the person who cemented the grill to her teeth was a licensed professional and performed it in a sterile environment.