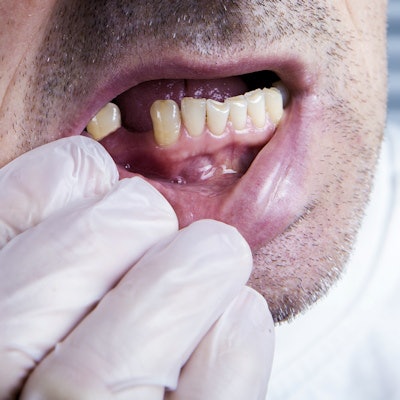 Many people not only consider income level a defining factor for tooth loss but also associate fatter paychecks and higher social standing with having fewer missing teeth, according to data recently released by online market research platform DentaVox.
Survey respondents also associated tooth loss with job position, ranking company owners as having the fewest missing teeth in old age, according to results released on February 10.
"Oral health is still being traded as a luxury service," wrote Donika Kraeva in a blog post about the results. Kraeva is a marketing manager at the Dentacoin Foundation, which powers the DentaVox platform.
Approximately 2,600 people worldwide between the ages of 20 and 45 participated in the research, with data collected between December 17, 2020, and February 3, 2021.
The survey findings are in line with previous research on oral health. Socioeconomic groups and some racial and ethnic groups experience worse oral health, such as more missing teeth, due to social factors, including where they work and learn, according to the U.S. Centers for Disease Control and Prevention (CDC).
Many in those groups do not have dental insurance and cannot afford to pay out-of-pocket costs for routine preventive dental care visits. Also, they may live in places where they do not have access to fluoridated water or healthy foods, according to the CDC.
In the current survey, 55% of respondents reported that fewer missing teeth indicates high social status. Meanwhile, 21% reported that income level has the most significant effect on tooth loss, followed by education, at 8%, and where a person lives, at 6%.
Interestingly, the tooth loss reported by survey respondents matched their demographic information, with 40% of respondents of very high social status stating they had not lost any teeth, excluding wisdom teeth. Only 35% of those with low social status had a full set of their own teeth, according to the results.
In addition, 53% of participants reported that job position was a relevant factor in predicting tooth loss. Of the respondents, 16% stated that company owners were likely to have the fewest missing teeth as they aged. The job position of CEO fell into second place, with 15% reporting that this group would experience less tooth loss. Managers came in third place at 7%.
The results highlight the importance of improving the "oral health of all people, regardless of social status, with better awareness, proper at-home hygiene, regular dental visits, and wider access to affordable care," Kraeva wrote.