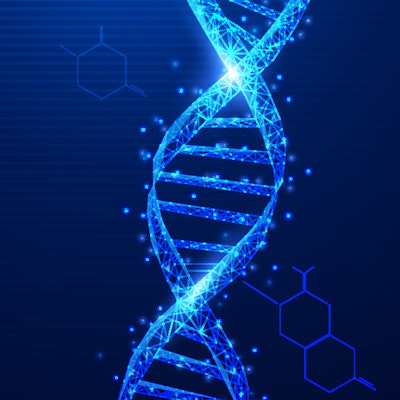 The same genes that affect diseases in patients' mouths may be linked to other diseases, including certain types of cancer, according to research published last September in Scientific Reports.
A team led by Dr. Mariana Bezamat of the University of Pittsburgh Department of Oral and Craniofacial Sciences demonstrated in a population with tooth loss that a variation in the ERN1 gene may be associated with skin and breast cancer.
"Cavities can be perceived as something small -- like 'Oh, it's just a tooth,' -- but it's the most common chronic disease in the world. If it turns out there's a connection with other systemic health issues, I think it could get more attention," Bezamat said, in an article from the university.
In the study, the researchers analyzed data from more than 1,400 patients who had sought dental treatment and who had previously lost teeth. Bezamat and her team analyzed the total sample for genetic associations with the ERN1 candidate gene and included only patients who had one or more teeth missing due to dental caries, periodontal disease, or periapical lesions.
The results confirmed that the ERN1 variant was linked to cancer in these patients and that the link was driven by specific types of cancers. Specifically, patients with the gene variant were more than twice as likely to have both skin and breast cancers than those without it, according to the findings (Sci Rep, September 27, 2022, Vol. 12, 16098).
While it's not yet clear why variants in the ERN1 gene might be connected to cancer or dental disease, the gene is known to play a role in stress pathways in the endoplasmic reticulum, a network of tubes within cells that is important for transporting and folding proteins.
Further research is needed before associations like these could be used to help patients directly, the researchers noted.
"There is a need for animal studies and additional human genetic studies to really confirm this, and there are a lot of steps to get there," Bezamat said.