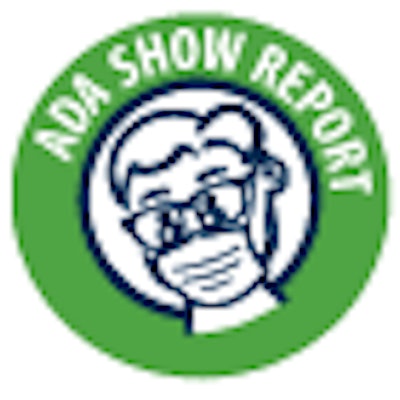 SAN FRANCISCO - During the final day of the ADA Annual Session on Saturday, Gordon Christensen, DDS, MSD, PhD, and a panel of dental implant experts gave dental implant manufacturers and attendees plenty to consider during a question-and-answer session entitled "Controversies in Dental Implantology."
During the two-and-a-half-hour session, Dr. Christensen; David Little, DDS; and Joseph Massad, DDS, provided candid and, as advertised, occasionally controversial opinions on everything from costs to methods regarding dental implants.
Implant manufacturers will take issue with Dr. Christensen's position on price point. After a question about the risks of using "cheap, copycat implants," he took the "Big 3" implant makers to task for what he perceives as inflated costs.
"If you're with the three biggest companies, I'll say right to you: You're losing market because the prices are obscenely high," Dr. Christensen stated. His opinion, he added, was based on his knowledge of what it costs to make titanium implant pieces. "I know how much," he said, "and it's not much."
The panelists also were in consensus that the key to implant product selection is finding a predictable implant with science behind it. But it doesn't end there. "It's important to me that someone will be behind me 100%," he said of implant makers. "It's about the support they give you."
In some cases, the generic products are worthy alternatives. "We've tested many. Some are as good as or better than the ones they copy," Dr. Christensen said.
He described his positive experience with Implant Direct. "I went to the factory and saw their copycats of brand names. I had them mill them while I was there," he said. "And we've tested them and the implant company they were mimicking. Look seriously at these companies."
Throughout the session, the panel also addressed the skill set required to place dental implants. "What [panelist Dr. David Little] brought up is one of my strongest wishes. That it [implantology] is taught in dental school as an individual concept," Dr. Christensen said. "It's upsetting to me that it is not."
The panel addressed the hazards of cement in several instances. An audience member asked, "Do you ever recommend cementing single implant crowns with permanent cement?"
"The biggest thing you have to worry about is seating it," Dr. Christensen said. "Get the cement out. Whatever it takes. It could cause a bigger problem than you can imagine." The point was reiterated later in the session. "We have to get better at getting the cement out of there."
Another panelist asked if smokers were ineligible candidates for implants. "It's easy to say no," Dr. Little admitted. "I'll say to them, "Lets get healthy first.' If they won't, they will tell you." The importance of outlining the risks of smoking is crucial to the patient-practitioner dynamic in those situations, he noted.
"I'll tell them that, "My success is normally in the high 90s, but for you it's in the 70s," Dr. Little said. "And 'I'm going to overengineer you, which means more to charge.' "
Dr. Massad explained that his strategy involves an agreement form. "Some come back after lying about smoking with periodontitis, etc. Among those who say they'll quit, 98% don't," he warned.
"Of all the maladies that relate to the failure of an implant, this is the worst one," Dr. Christensen added. "It was No. 1 in our studies."
He closed the topic with an anecdote about a physician friend. "He gives business cards for a mortuary to his patients who are smokers."