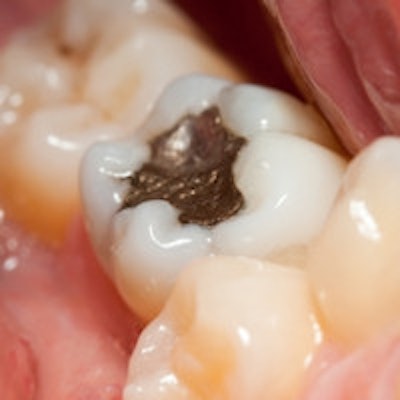 Should you repair or replace that restoration? The findings of a new study may help you answer that question. Researchers found that replaced restorations had a lower overall failure rate, but repaired restorations that failed needed less-severe treatment.
The study analyzed nearly 6,000 restorations one year after placement. Whether the restoration was repaired or replaced, the type of material used, and the number of surfaces involved all significantly affected the likelihood a restoration would fail (Journal of the American Dental Association, December 2015, Vol. 146:12, pp. 895-903).
"Although repaired restorations may have required additional treatment more often than replaced restorations, they required a more conservative treatment -- one that did not involve replacing the entire restoration, or, even worse, endodontic and extraction treatments," lead author Valeria Gordan, DDS, said in an interview with DrBicuspid.com.
Quantifying restoration failure
Repairing restorations rather than replacing them can save the tooth structure, reduce stress on the tooth's pulp, delay the restoration cycle, and cut back on the amount of time that the patient is in the chair, according to the authors. However, because the treatment method is still somewhat controversial, the researchers set out to see if there were any quantifiable differences.
They used 2008-2009 data collected from 195 dentists who were part of the dental practice-based research network (DPBRN). Dr. Gordan, a professor and the director for dental practice-based research at the University of Florida College of Dentistry, specifically noted that the study analyzed restorations in a practice setting because of its real-world application.
"Practice-based research is the ultimate test of dental restorations, as the clinical conditions are not controlled and the research is done in a real-world setting," she said.
Dr. Gordan and colleagues ultimately included 5,889 restorations from 4,482 patients in the study analysis. Some restorations were excluded for reasons such as being only temporary or lack of data.
One year after the restorations were repaired or replaced, the dentists graded their quality, assigning either an acceptable or not acceptable rating. Acceptable restorations were satisfactory or, although they deviated from the ideal condition, didn't need additional treatment. Not-acceptable restorations needed additional treatment because they were already causing damage or were likely to cause damage in the future.
Restorations needing additional treatment
after 12 months
Type
Total no.
No. needing additional treatment
Percentage
Repaired restorations
1,498
144
7%
Replaced restorations
4,391
234
5%
The researchers found that a restoration was more likely to be rated as not acceptable if it was repaired rather than replaced. However, few restorations in both categories were graded not acceptable.
"Although the rate of additional treatment was small -- less than 7% -- I was somewhat surprised that repaired restorations required additional treatment more often than replaced restorations," Dr. Gordan said.
"Although the rate of additional treatment was small—less than 7%—I was somewhat surprised that repaired restorations required additional treatment more often than replaced restorations."
— Valeria Gordan, DDS
Although repaired restorations needed additional treatment more often, they also needed less-severe treatment than replaced restorations. Only 25% of teeth with a repaired restoration required endodontic treatment or extraction after 12 months, while 42% of teeth with replaced restorations did. The study authors suggest that this is because "restorations that are replaced lose a significant amount of healthy tooth structure."
The researchers also found that restorations were likely to need additional treatment in the following cases:
Multiple surfaces were involved.
The restoration fractured.
Amalgam was used.
The restoration was placed by a dentist in a large group practice, as opposed to a solo practice, small group practice, or public healthcare setting.
Deciding to repair or replace an existing restoration
While this study evaluated a large number of restorations, it did not evaluate patients' caries risk, which impacts the chance of a restoration failing, according to the authors. It is also only a short-term evaluation.
"Based on the results of our previous long-term clinical studies, we believe that most of the failure related to repair and/or replacement treatment is most likely to occur within the first year after the insertion of the restoration," Dr. Gordan said. "We would like to extend the observation period of research done in a practice-based setting to confirm that this is indeed the case."
Dentists need to consider a variety of factors when deciding to repair or replace an existing restoration, including minimally invasive dentistry and ways to preserve a tooth's structure, Dr. Gordan said.
"Before deciding on a restoration, dentists should also consider the several factors that affect the longevity of dental restorations -- the type and size of the restoration, the restorative material involved, as well as the patient's factors," she said. "I would also add to the list, if the patient maintains regular appointments in the same dental practice."