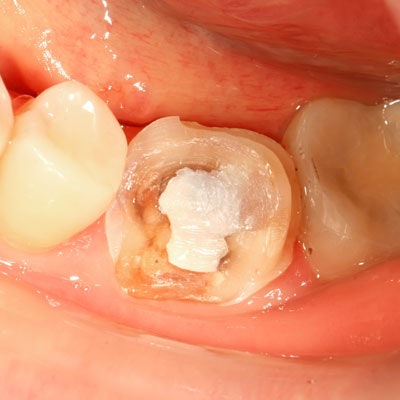 Gordon Christensen, DDS, MDS, PhD, spoke about composite restorations at the recent 2018 Chicago Dental Society Midwinter Meeting. During his well-attended lecture, Dr. Christensen gave his take on materials, procedures, and general restorative trends.
He noted that composites tend to have a shorter life span than some other types of restorative materials, such as amalgam. However, when they are used correctly, composites can look good and work well.
Below are five key takeaways from his presentation.
1. The smaller the composite, the longer it lasts
Smaller composite restorations last longer than larger ones, Dr. Christensen noted on several occasions. For instance, restorations the size of one-fourth to one-fifth of the occlusal distance from cusp tip to cusp tip tend to last more than a decade, while restorations two-thirds or more of this distance have poor estimated longevity, he said.
"The smaller you go, the more strength you maintain," Dr. Christensen said.
2. Know when to use an onlay instead of a crown
Too many practitioners are placing crowns instead of onlays, likely because crowns are easier than onlays, Dr. Christensen said. Crowns should be done when more than half of the tooth structure is gone, he noted.
"I'm seeing way too many crowns," Dr. Christensen said. "That's being stimulated by how easy it is to do a crown. ... You can do it with your brain turned off."
3. Don't forget to disinfect
"The smaller you go, the more strength you maintain."
— Gordon Christensen, DDS, MDS, PhD
Dr. Christensen spoke extensively about the importance of disinfecting before placing a restoration. He mentioned that chlorhexidine gluconate works, and that glutaraldehyde can kill harmful bacteria in about two one-minute applications.
"You either got to hack it out or kill what's causing it, which is literally billions of organisms," Dr. Christensen said. "You have got to disinfect."
4. Light cure correctly
Too many clinicians are light curing composites the wrong way, Dr. Christensen said. For light curing to work, the source must be held directly perpendicular to the restoration. If it's off by more than 5°, the life of the restoration can suffer, he noted.
"Lights are the problem with bulk filling," Dr. Christensen said. "The material is superb. The way dentists are using it is hideous."
5. Consider cone-beam CT and radiopaque materials
Dr. Christensen also mentioned to consider using cone-beam CT images in your practice because patients respond better to them. He also personally likes using radiopaque materials for composites, so he can see them in radiographs.
"I like radiopaque," he said. "Some of these [materials] you can't see if it has caries or an open margin or both."