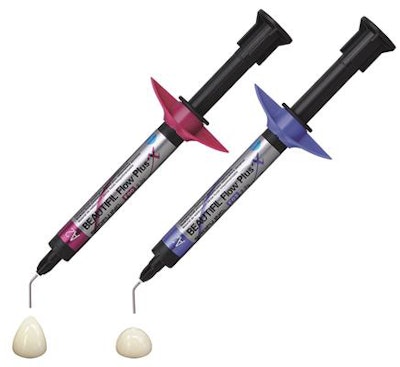 Materials and equipment company Shofu Dental has launched a new bioactive nanohybrid composite.
The Beautifil Flow Plus X is intended for direct anterior and posterior restorations. The composite contains the company's bioactive Giomer technology, a bioactive surface prereacted glass ionomer (S-PRG) filler that releases and recharges six ions to inhibit plaque formation, minimize hypersensitivity, neutralize acid, and release and recharge fluoride, according to Shofu.
The composite is available in two viscosities, F00 (zero flow) and F03 (low flow), in 2.2-gram syringes. It comes in the most common tooth shades, as well as opaque dentin, enamel, bleach, and effect shades, according to the company.