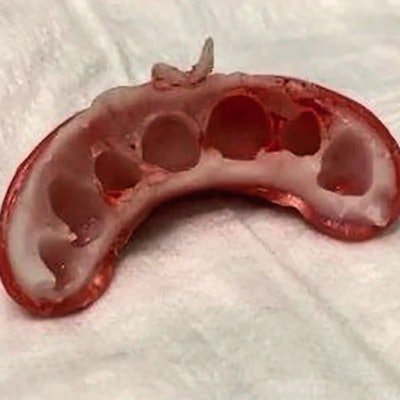 What's one thing that's spookier than the spirits roaming among the living on Halloween? Getting fake vampire fangs stuck in your mouth. A 55-year-old man knows this frightening experience firsthand, according to a case report published on August 13 in the British Dental Journal.
The man wore boil-and-bite novelty teeth for his Halloween costume as a vampire. When he was unable to remove the teeth, clinicians at the Accident & Emergency (A&E) department used a dental technique and flat plastics to guide the fangs out. Fortunately, the man experienced no complications beyond cuts on his gums, the authors wrote.
"Working in the A&E department on Halloween brings with it a myriad of unusual clinical presentations," they noted.
When the man arrived at the hospital, A&E staff recommended he hold warm water in his mouth to loosen the fangs, which doctors speculated could then be pulled out. After unsuccessful attempts, however, A&E referred the patient to the maxillofacial team, according to the report.
The maxillofacial team theorized that the excessive retention was related to thermal shrinkage, engagement of undercuts, and surface tension --- not unlike the retentive forces of thermoplastic mouthguards. They also knew that water at a temperature of 80° C (176° F) would be hot enough to melt the ethylene-vinyl acetate and polycaprolactone material in the novelty teeth. However, that temperature would be too hot for the patient to tolerate.
Instead, the team opted to remove the fangs by opening the labial and palatal aspects of the teeth with simultaneous flat plastics. This technique prevented the novelty teeth material from engaging the embrasures, allowing air to break the surface tension.
They were then able to remove the vampire teeth. The man experienced superficial gingival lacerations, but after rinsing with salt water, he made a complete recovery, the authors wrote.
Though this may seem like an unusual case -- and one limited to wearing a costume during Halloween season -- the use of thermoplastic oral appliances may result in this type of unfortunate situation. The authors mentioned mouthguards, whitening trays, and custom scuba diving mouthpieces as other appliances that can cause excessive retention.
"An understanding of dental materials is useful when considering methods to remove the appliance," they wrote.