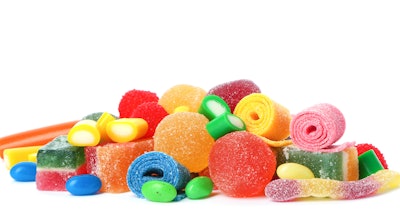 More than one-third of people in the U.S. experience candy-related dental problems, including damaged crowns, according to survey results. As people dig into Halloween treats today, they may want to shun treats most likely to torture teeth like Jawbreakers.
Jawbreakers, Jolly Ranchers, and Bit-O-Honey may be the most dangerous candy for teeth, but they aren't the only varieties, according to a survey of 1,002 adults in U.S. conducted in late-August 2023 by Shiny Smile Veneers in Houston, TX.
The following candies were named the fourth through the 10th most dangerous:
4. Starburst
5. Tootsie Roll
6. Laffy Taffy
7. Snickers
8. Atomic Fireball
9. Butterfinger
10. Blow Pops and Milk Duds
Some of those that made the most dangerous list also were ranked as the candy that gets stuck in people's teeth the most, according to the results.
The following made the list of the stickiest candies:
Laffy Taffy
Bit-O-Honey
Tootsie Roll
Salt water taffy
Jolly Rancher
Milk Duds
Jelly beans
Gummi bears
Airheads
Starburst
Not only can avoiding candy protect teeth from cracked fillings and crowns and tooth pain and sensitivity, but it also can save patients money. People in the U.S. have spent $538, on average, fixing their teeth after experiencing a dental problem caused by eating candy, according to the results.
Additionally, parents reported taking other precautions during Halloween season. About 50% of parents admitted checking their kid's candy to ensure it is free of things like razor blades and drugs, according to the findings. While checking their candy, 18% reported confiscating their favorite sweets for themselves. Meanwhile, 40% of parents reported taking away some of their kids' candy to prevent them from eating it, and another 21% threw away any leftover Halloween candy after a couple of weeks, according to the survey.
Furthermore, plenty of parents also ensure their children's safety by blacklisting some types of candies. Parents' least favorite candies for their kids to eat are Jawbreaker, Atomic Fireball, and Bit-O-Honey.