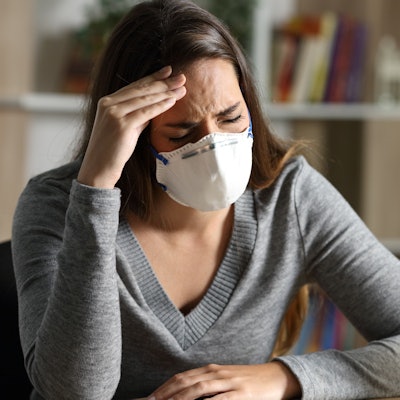 Dentists should stay abreast of the most common oral manifestations of COVID-19 such as taste disorders and xerostomia, according to a recent study published online in the Journal of Evidence-Based Dental Practice.
In the study, researchers led by J. Amorim dos Santos of the University of Brasilia in Brazil measured the prevalence of taste disorders and xerostomia among people who tested positive for COVID-19. They also measured the relationships among taste disorders, gender, and disease severity.
"Oral findings such as taste disorders and xerostomia could be effectively utilized as a public health screening tool to identify, test, and quarantine patients (especially milder cases)," the authors wrote (J Evid Based Dent Pract, December 24, 2021).
Strong link between altered taste and COVID-19
To conduct their research, the authors carried out a systematic review of 40 cross-sectional observational studies that assessed the prevalence of oral signs and symptoms of COVID-19. The studies covered a total of 10,228 patients.
The most common oral manifestation of COVID-19 was taste disorders, with 45% of patients experiencing them. Of those with taste disorders, 38% experienced dysgeusia (altered taste), 35% experienced hypogeusia (decreased taste sensation), and 24% experienced ageusia (absence of taste sensation).
Taste disorders were found to be more prevalent in women than men and more prevalent in nonhospitalized COVID-19 patients with mild to moderate symptoms than hospitalized patients with more severe symptoms. There were also more reports of COVID-19-related taste disorders in Western countries than Asian countries.
The researchers considered a number of explanations for the prevalence of taste disorders. Because olfactory dysfunction is commonly observed in patients with COVID-19, it is no surprise that taste perception would also be affected due to the proximity and connections between the olfactory and gustatory systems.
Furthermore, there was a correlation between taste disorders and the level of SARS-CoV-2 in the saliva, which suggests the virus could potentially affect the taste buds directly, the authors noted. Other pathogenic mechanisms that have been proposed include local inflammatory response or binding of the virus to sialic acid receptors, which can be found in the human respiratory tract.
Other notable study findings
Xerostomia was another highly prevalent (43%) oral manifestation of COVID-19, the authors reported. They also concluded that the tongue was the most affected intraoral site and that among oral mucosal lesions, aphthouslike or herpeslike lesions were the most common manifestations.
However, there were some limitations to the study, the group noted. One was the lack of clarity on how COVID-19 severity was defined, and another was the use of subjective questionnaires to assess taste function.
The COVID-19 oral manifestations identified can be used as an effective public health screening tool and a means by which dentists can help guide patients to appropriate medical care, Amorim dos Santos and colleagues wrote.
"Dental practitioners should be cognizant of the oral manifestations of COVID-19 and stay abreast of the accumulating evidence, to help guide patients to seek appropriate medical care and help prevent transmission of disease in the dental setting," they concluded.