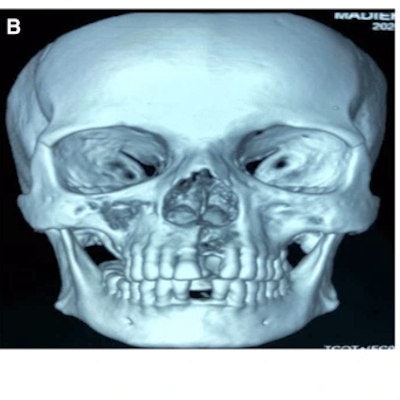 Survivors of COVID-19 may be at risk of developing spontaneous osteonecrosis of the jaw, according to a case series published June 14 in BMC Infectious Diseases. These are believed to be the first reported cases of jaw osteonecrosis following SARS-CoV-2 infection.
Between January and August 2021, 12 patients prescribed corticosteroids as treatment for COVID-19 developed spontaneous maxillary osteonecrosis. All patients had at least one comorbidity and developed the serious bone disease within weeks of testing negative for SARS-CoV-2, the authors wrote.
"With the increasing rate of COVID-19, the general dentists and oral and maxillofacial surgeons must be best prepared and positioned for the early identification and prevention of PC-RONJ (post-COVID-19-related osteonecrosis of the jaw) to avoid permanent deformity," wrote the authors, led by Yehia El-Mahallawy of Alexandria University in Egypt.
A dozen patients with confirmed SARS-CoV-2
Between January and August 2021, 12 patients were referred to the oral and maxillofacial surgeon department for consultation regarding a painful intraoral condition. Recently, each patient had a confirmed positive polymerase chain reaction (PCR) test for SARS-CoV-2, according to the case series.
The patients, which included seven women and five men, had a mean age of about 56 and experienced oral manifestations with common and unusual clinical behavior. Of the patients, five had been hospitalized for various periods. The others were treated while in home isolation.
Each patient was prescribed corticosteroids as a COVID-19 treatment. While the five hospitalized patients were given 6 mg injections of dexamethasone every 24 hours for 10 days, those in isolation were given 6 mg of oral dexamethasone for 10 days.
None of the patients reported any history of head and neck radiotherapy or taking bisphosphonate or other antiresorptive or antiangiogenic medications. All of the patients had diabetes, they wrote.
Following various periods of COVID-19 disease and its management, each patient showed a mutual clinical picture and spontaneous, unprovoked maxillary osteonecrosis. The mean onset of when their jaw necrosis developed was three to 12 weeks from the day they had a negative PCR test, the authors wrote.
In nine patients, a mobile dentoalveolar maxillary segment was observed. Also, a pus-oozing fistula was found in eight patients, palatal swelling was observed in three patients, and exposed necrotic bone with mucosal ulceration was found in four patients.
All patients underwent computed tomography (CT) scans to delineate the extent of the infection. Lab tests were not positive for fungal growth, but nine patients tested positive for ampicillin and sulbactam-resistant bacilli, and the other three were positive for Enterococcus spp, Neisseria spp, and Staphylococci.
After discussing treatment with patients, all underwent surgical debridement, followed by smoothing of any sharp bony edges, copious saline irrigation, and water-tight suturing. Then, they were given culture-based antibiotics for a minimum of three weeks, the authors wrote.
For a minimum of two months, the patients were followed. No recurrence or propagation of the inflammatory processes was reported. A recurring histopathological picture was reported in all cases, with tissue stains showing bony trabeculae containing numerous necrotic fragments and empty osteocyte lacunae. The bone marrow showed heavy infiltration of inflammatory cells, along with areas of hemorrhage and dystrophic calcification, they wrote.
Complications beyond recovery
Though many patients recover from COVID-19, clinicians should be aware of the potential complications, including osteonecrosis in the maxillofacial region, they can experience after recovery, the authors wrote.
Many factors have the potential to contribute to the induction and propagation of osteonecrosis of the jaw related to post COVID-19. These factors include the virus itself, which causes angiotensin-converting enzyme 2 (ACE-2) downregulation and a subsequent hyperinflammatory state; the drugs, including corticosteroids, used as treatment in the infection; comorbidities; and coinfections. Independently or due to their interactions, these factors are associated with the development of jaw osteonecrosis, they wrote.
The limitations of this case series include its small sample size. In the future, studies should be conducted to determine the exact pathogenesis of jaw necrosis and whether the virus itself or other factors lead to this serious bone disease, they wrote.
"Post-COVID-related osteonecrosis of the jaw (PC-RONJ) could be now considered as one of the potential post-COVID-19 oral and maxillofacial complications that occurs unprovokedly," El-Mahallawy and colleagues wrote.