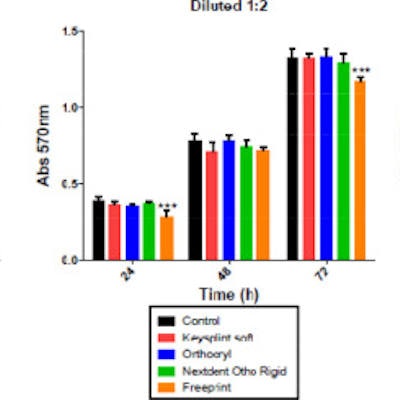 Occlusal splints made with 3D-printed resins appear to show similar biocompatibility to resins created using conventional methods, according to a study recently published in the Journal of Dentistry.
However, of four new resins tested in the study, one of the 3D-printed resins from a German-based medical and dental material company demonstrated toxicity on human gingival fibroblasts, suggesting that more studies are needed to further validate the safety of these resins. This is believed to be the first study that explores the toxicity of 3D-printing resins for splints, the authors wrote.
"Two of the three 3D-printed resins tested in this study performed as well in the cytotoxicity tests as the conventional one, supporting their use, but caution and further testing are required," wrote the authors, led by María Pecci-Lloret of the University of Murcia in Spain (J Dent, May 14, 2022).
In recent years, digital dentistry has been increasing, and with it, new impression resins have emerged. Though new materials have become more accessible and affordable, there is little research about their biocompatibility and whether they pose any harm to the oral cavity.
To evaluate and compare the cytotoxicity of four different dental splint resins on human gingival fibroblasts, researchers prepared 40 standardized discs and extracts using Keysplint Soft (Keystone Industries), NextDent Ortho Rigid (3D System), Freeprint Splint (Detax), and conventional acrylic resin Orthocryl (Dentaurum).
Next, human gingival fibroblasts were isolated from gingival tissues. In the control group, the fibroblasts were resuspended in a complete growth medium without red phenol and plated in 96-well plates. In the other group, the human gingival fibroblasts were resuspended in a complete growth medium at 1-to-1, 1-to-2, and 1-to-4 dilutions of dental splint resins, according to the study.
For 24, 48, and 72 hours, human gingival fibroblasts were exposed to different dilutions of the four dental resins. Different biological tests, including MTT (5-diphenyltetrazolium bromide) assays and colorimetric tests used to measure cell metabolic activity, were completed on the fibroblasts and resins.
At 1-to-4 dilution of the dental material, no resin affected cell metabolic activity compared to the controls. However, at a 1-to-2 dilution, Freeprint Splint displayed the highest cytotoxicity at 24 and 72 hours. The other resins did not affect cell biocompatibility at any time, the authors wrote.
The study had limitations, the main one being a lack of studies and more detailed information about the composition of printing resins due to patent and privacy rights, the study's authors wrote.
Although new dental resins for 3D printing and those for conventional methods showed similar biocompatibility, the cytotoxicity shown with the Freesprint Splint shows that more research may be necessary, the authors wrote.
"Despite being ISO (International Organization for Standardization) certified, independent cytotoxicity studies are necessary to verify the safety of these materials," Pecci-Lloret and colleagues wrote.