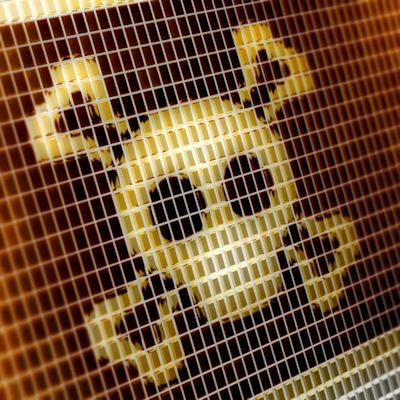 Ghosts, ghouls, and things that go bump in the night may be what you think about on Halloween, but the biggest scares may happen right in your own dental practice. In the spirit of the holiday, DrBicuspid.com revisits the scariest case reports of 2022.
The top story concerned a man who recovered from COVID-19 and lost his sight following a routine tooth extraction that led him to develop a blood clot in his sinuses. The unusual case triggered the authors to caution clinicians to delay oral surgery in those recovering from COVID-19.
Other hair-raising case reports focus on strangely impacted molars, a debridement procedure that went awry, and other terrifying events at dental practices.
Without any further suspense, here are the five most frightening case reports of 2022.
1. Blindness case prompts call to delay oral surgery after COVID-19
A man with diabetes who recently recovered from COVID-19 went blind in one eye after a tooth extraction led to the development of a cavernous sinus thrombosis. Based on this man's case, the authors called for at least an eight-week delay in performing minor dental surgeries such as tooth extractions for patients with diabetes who have recently recovered from COVID-19.
After the 69-year-old had his tooth pulled, he began experiencing severe headaches and disturbed levels of consciousness. Imaging revealed cavernous sinus thrombosis and sinusitis in his right maxillary and sphenoid sinuses. He received treatment and was improving except he began having trouble moving his right eye.
Then, he was diagnosed with intraoral canine space infection with extraoral buccal space swelling on the right side. He underwent sinus surgery and had his canine space drained. Though he recovered from the cavernous sinus thrombosis and his eye and lid movements improved, he lost vision in his right eye.
2. Dental x-rays show man's rare horizontally impacted molars
Clinicians examining a routine dental x-ray discovered a 20-year-old man had rare, identical bilateral horizontally impacted lower molars, according to a case report published in January in the Cureus Journal of Medical Science.
Fortunately, the early detection led to the man having his molars extracted, avoiding serious complications. Extractions are the best treatment options for impacted teeth, since they can cause future problems, including increasing a person's risk of dentigerous cysts, the authors wrote.
3. Woman develops air in the skull after debridement procedure
A 62-year-old woman developed a life-threatening presence of air within her skull when a dental clinic used an air-polishing device to perform submucosal debridement to treat her peri-implantitis lesion. The case report was published in May in Clinical and Experimental Dental Research.
Within two seconds of turning on the device, the woman complained of extreme discomfort in her face and head. Computed tomography (CT) scans revealed air in the woman's intracranial space, a phenomenon referred to as pneumocephalus.
Due to the air likely being contaminated with oral bacteria, the patient was in danger of developing meningitis. Therefore, she immediately was admitted to the hospital and recovered following antibiotic treatment. This is believed to be the first case of direct development of pneumocephalus from a dental procedure, the authors wrote.
4. Root canal sealer found in woman with nerve injury
A 27-year-old woman lost sensation in her chin and lip following root canal treatment on her mandibular molar. Months later, specialists confirmed that extrusion of the root canal sealer caused the patient's permanent anesthesia, according to a case report in Oral Surgery.
Imaging showed that the root canal sealer was widespread within the marrow spaces where endodontic treatment had occurred. The sealer extended to the mandibular canal and perforated the mandible's lingual cortex. Also, there was no evidence of bony destruction and periosteal reaction.
5. X-rays reveal man's bruxism-caused apical periodontitis
Dental x-rays revealed that a healthy 28-year-old man developed apical periodontitis in two teeth following an intense phase of bruxism that lasted about a year. The case report was published in BMC Oral Health.
Though experimental consequences of occlusal trauma to the pulp have been described in past literature, the report's authors believe this case of apical periodontitis is the first strictly due to bruxism. Additionally, this case report highlights the importance of taking complete medical histories and routine x-rays of patients.