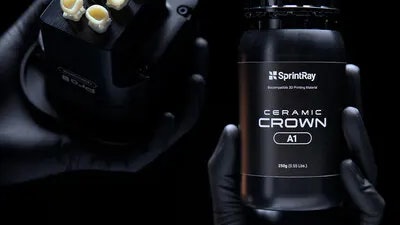 SprintRay has launched a ceramic crown 3D printing ecosystem, which includes a ceramic-dominant resin for 3D-printed restorations, in the U.S.
Ceramic Crown, which is made with more than 50% ceramic filler, has received 510(k) clearance from the U.S. Food and Drug Administration for 3D printing full and partial single crowns and veneers. The ecosystem is part of an integrated, streamlined 3D printing chairside workflow optimized for design to delivery in less than 45 minutes.
The system includes the SprintRay Pro S Crown Kit, a new compact build platform and resin tank designed to print multiple single-unit crowns with maximum speed and efficiency, according to the company. Compatible with the SprintRay Pro S 3D printer family, the kit uses heat and hard anodized aluminum to deliver crown prints in as little as 10 minutes.