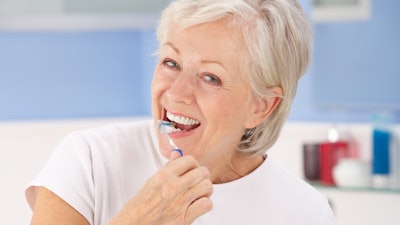 Using a high-strength prescription fluoride toothpaste or gel may boost the remineralization of teeth in adults under ideal conditions, but it's unclear how well it works in a real-world setting, according to a commentary published in the Journal of the American Dental Association.
Since there is limited research that differentiates between the effectiveness and efficacy of 1.1% sodium fluoride (NaF) toothpaste or gel in adults with an elevated risk of tooth decay, clinicians need a more definitive understanding of the proper daily dose and exposure to maximize results, the authors wrote.
"Providers need to better educate patients who are potential candidates for this treatment to help bridge the gap between the efficacy and effectiveness of 1.1% NaF," wrote the authors, led by Dr. Gretchen Gibson, MPH, of the Veterans Health Care System of the Ozarks in Fayetteville, AR, (JADA, February 28, 2023).
Though it is not a U.S. Food and Drug Administration (FDA)-approved medication due to its higher fluoride concentration, 1.1% ( approximately 5,500 ppm) sodium fluoride toothpaste or gel is one of the recommended caries prevention measures for at-risk adults to use at home. Because it's not approved by the FDA, a dentist must prescribe it under a medically necessary waiver. Research has shown that 1.1% sodium fluoride increases the remineralization of teeth; however, most data in adults primarily show its effects on root lesions, according to the commentary.
To date, most of the literature dedicated to 1.1% sodium fluoride toothpaste or gel is related to efficacy, not effectiveness. For example, a study published in 2022 used a decade's worth of U.S. Veterans Affairs electronic health record data to assess the effectiveness of different types of professionally applied and prescription self-applied fluoride in preventing new caries-related restorations or extractions.
The data were from adults who were at considerable risk of tooth decay. During the year after professional application of fluoride, patients had about 30% decreased odds of receiving caries-related treatment. However, no positive effect was seen in those who used the toothpaste or gel on their own, the researchers wrote.
In addition to a lack of research on the effectiveness of sodium fluoride products in adults at high risk of caries, there is no clear guidance on how many times per day a patient should use the product and if the toothpaste and gel should be used differently than over-the-counter products, according to the commentary.
Suggested dosing and administration recommendations for 1.1% sodium fluoride products vary, with recommended use ranging between one and three times daily. Unlike store-bought toothpaste, patients should not rinse after brushing with 1.1% sodium fluoride toothpaste or gel.
Rinsing decreases the levels of fluoride in both interdental plaque and saliva. Additionally, at least one of a patient's daily uses must occur at bedtime to optimize the retention of fluoride and enhance remineralization, they wrote.
Clinicians should consider these factors, patients' understanding of these factors, and their willingness to follow the instructions when prescribing a high-strength fluoride toothpaste or gel, the authors wrote.
"The use of 1.1% NaF toothpaste or gel depends on the patient using it appropriately," Gibson et al wrote.