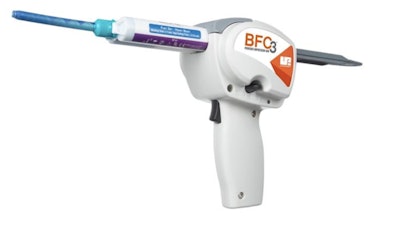 Image courtesy of Ultradent.
Dental material developer Ultradent Products has launched the BFC3 impression gun, a cordless, handheld, motorized tool that expresses dental impression material.
The gun features an ergonomic design and is compatible with standard 25 mL, 50 mL, and 75 mL 1-to-1 or 2-to-1 automix cartridges. The BFC3 has an adjustable flow rate, an antidrip feature that momentarily reverses the plunger when the dispensing trigger is released, and an autostop feature with overload protection.
Additionally, the impression gun reaches a full charge in 2.5 hours, and when it does, it can dispense up to 60 full 50-mL heavy-body vinyl polisiloxane cartridges. The impression gun is compatible with Thermo Clone VPS and Chromaclone polyvinyl siloxane impression material lines, alginate alternative material, bite registration, and impression mixing tips.