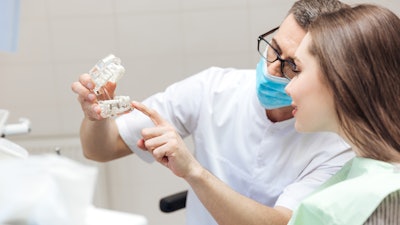 When it comes to replacing anterior teeth, implant-supported single crowns (ISSCs) may fare better than resin-bonded fixed dental prostheses (RBFDPs), according to a study published on August 21 in Clinical Implant Dentistry and Related Research.
The failure and complication rates were higher in patients with resin-bonded fixed dental prostheses, the authors wrote.
"ISSCs have lower complication and failure rates and thereby a better survival and prognosis, which makes them a superior treatment modality compared to RBFDPs for young, healthy individuals," wrote the authors, led by Klaus Gotfredsen, PhD, of the department of odontology at the University of Copenhagen in Denmark.
A true comparison
Recently, research has shown that resin-bonded fixed dental prostheses have high survival rates and few complications, making them a more attractive and affordable treatment than implant-supported single crowns. However, several studies that show the prosthesis as performing well have come from the same group of experts, the authors wrote.
To explore the survival and success rates of RBFDPs compared to ISSCs for the replacement of anterior teeth after three to five years of functional loading, a comparative study of 55 patients was conducted, they wrote.
In 27 patients with tooth agenesis in the anterior part of their jaws, 45 RBFDPs were inserted. The other 28 patients with agenesis were treated with 40 ISSCs. Complications and survival rates were recorded for each patient at baselines, three-year follow-up exams, and five-year follow-up exams, according to the study.
In those with prostheses, the survival rate was 82% compared to 98% in those with ISSCs, the authors wrote.
After three years, four RBFDPs were no longer in place. After five years, four prostheses were not in situ. For ISSCs, there was only one failure after three years and none after five years, they wrote.
More problems
Of the 82% of RBFDPs that remained in place, 78% had no complications. However, there were four instances of complications after three years and four after five years. No complications were seen in 92% of ISSCs. Complications were reported in three crowns after three or five years, the authors wrote.
The study had limitations. Though the region for replacement, dental status, patient age, gender, and follow-up period were matched in those with prostheses and crowns, RBFDPs were mainly used in narrow spaces where implant placement may be critical, they wrote.
"Though this study showed that resin-bonded fixed dental prosthesis is a feasible treatment for replacing anterior teeth, a lower survival rate and a higher complication rate were observed compared to ISSC," Gotfredsen and colleagues wrote.