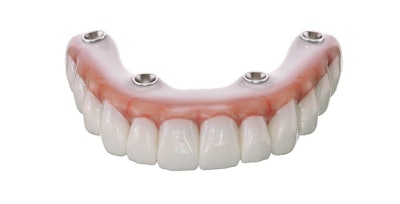 Digital dentistry firm SprintRay has launched OnX Tough 2, a 3D-printing resin cleared by the U.S. Food and Drug Administration for fixed, implant-supported denture prosthetics.
Now, up to 10 fixed dentures can be 3D printed in 30 minutes, according to SprintRay. A proprietary nanofusion technology offers toughness and lifelike aesthetics, and it is formulated in new shades bleach A1 and A2.
SprintRay will present details about its new technology at the 2023 American Academy of Implant Dentistry Annual Conference, which is being held November 1-4 in Las Vegas.