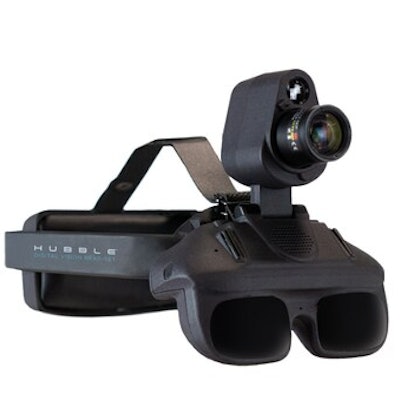 Image courtesy of the CAO Group.
The CAO Group will preview its digital vision headset, Hubble, at the California Dental Association's CDA Presents the Art and Science of Dentistry meeting, which will be held May 18-20 in Anaheim.
The battery-operated headset functions as multiple devices -- a microscope, optical loupe, headlight, digital camera, and intraoral camera -- within one device.
The device, which can be controlled with a remote or a foot switch, has the following features:
One to 20 times magnification with 2K image quality
A microdisplay view window
An intuitive user graphic interface for device status, patient record management, and device navigation
High-intensity, true-color LED that can be adjusted based on application preference
A view field that can be wirelessly projected to a TV monitor
On-command documentation, including imaging and video recording
The ability to broadcast live
Additionally, documents can be stored automatically in a local security digital card or sent to secured cloud storage. Initially, 10GB of cloud storage is provided free of charge, and a subscription service is available for additional storage. CAO said it will start taking preorders on May 18, and devices will be shipped around the fourth quarter of 2023.